WalletHub, a personal-finance website, compiled a list of the most stressed states based on 41 key metrics, ranging from average hours worked per week to personal bankruptcy rate and adequate sleep rate. The most stressed state is Louisiana, followed by Nevada and New Mexico. Utah is the least stressed state, along with Minnesota and South Dakota.
Related: Most Popular Beauty Products By State
Some noteworthy statistics from the report include New Hampshire having the lowest share of the population living in poverty at 7.6%, which is 2.7 times lower than Mississippi's 20.3%, the highest of any state. Nebraska has the lowest unemployment rate at 2.5%, while California has the highest at 7.3%, per the report. Massachusetts has 73 psychologists per 100,000 residents, the highest of any state and 7.3 times more than the lowest state, Louisiana, which has 10 per 100,000 residents.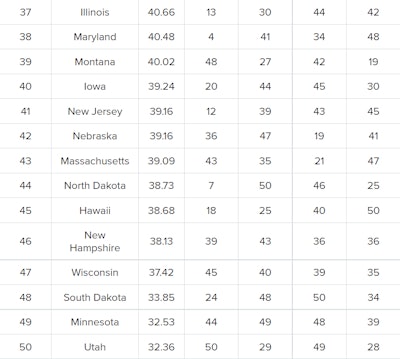 Utah has the lowest separation and divorce rate at 15.74%, while Nevada's 26% is the highest of any state. Minnesota has the lowest share of adults in fair or poor health (10%), while West Virginia has the highest share at 19.9%, two times lower than Minnesota.
The entire WalletHub report is available on its website (wallethub.com).
Top Ten Most Stressed States
1. Louisiana
2. Nevada
3. New Mexico
4. West Virginia
5. Mississippi
6. Arkansas
7. Oklahoma
8. Alabama
9. Texas
10. Tennessee
Top Ten Least Stressed States
1. Utah
2. Minnesota
3. South Dakota
4. Wisconsin
5. New Hampshire
6. Hawaii
7. North Dakota
8. Massachusetts
9. Nebraska
10. New Jersey