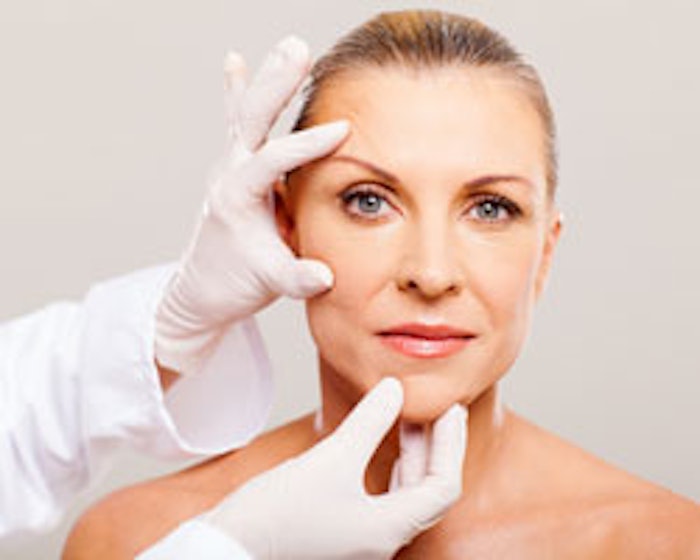 More than half of consumers are considering a cosmetic skin procedure to improve their appearance, according to just-released survey data from the American Society for Dermatologic Surgery.
Fifty-two percent of 8,300-plus respondents to the 2014 ASDS Consumer Survey on Cosmetic Dermatologic Procedures are considering esthetic treatments such as wrinkle-relaxing injections or skin-tightening procedures. The survey sought consumer opinion on cosmetic treatments in general and ratings for 10 specific procedures.
Consumers cite personal reasons for turning to cosmetic treatments. They said they want to "look as young as I feel or better for my age," "appear more attractive" or "feel more confident." Those were the top three reasons in the 2013 survey as well.
The top four procedures consumers are considering are:
Ultrasound, laser, light and radiofrequency treatments for skin tightening, treating wrinkles or improving the appearance of scars and birthmarks, 45%;
Laser and light treatments to reduce facial redness or improve skin tone or scars, 41%;
Chemical peels, 36%; and
Body sculpting, 35%.
"We see many reasons for the increased interest in cosmetic medical procedures: advanced techniques and cutting-edge technologies; consumers' growing comfort levels; and an improving economy," said ASDS president Mitchel P. Goldman, MD.
Many cosmetic conditions that troubled respondents last year remain top concerns this year, including: excess weight, 89%; skin texture and/or discoloration, 75%; lines and wrinkles near the eyes, 71%; and excess fat under the chin/neck, 68 percent.
Dermatologists have more influence on a decision to have cosmetic procedures than friends, physician referral or 11 other factors, respondents said, and a physician's board-certified specialty is the most important factor when contemplating a cosmetic medical procedure.
"The board certification tells potential patients that a physician is highly trained and is the most qualified to administer a cosmetic medical procedure," said Goldman. "That training and qualifications are key reasons consumers choose ASDS member dermatologists."
Consumers gave the highest satisfaction ratings to injectable wrinkle treatments (93%) and injectable filler treatments to soften facial lines and wrinkles and restore volume in the face (91%).
"Patients rightfully demand satisfaction, and our members provide that with their training and expertise," Goldman said. "We have the latest technologies and cutting-edge techniques. We are the skin experts."
View the 2014 ASDS Consumer Survey on Cosmetic Dermatologic Procedures here.