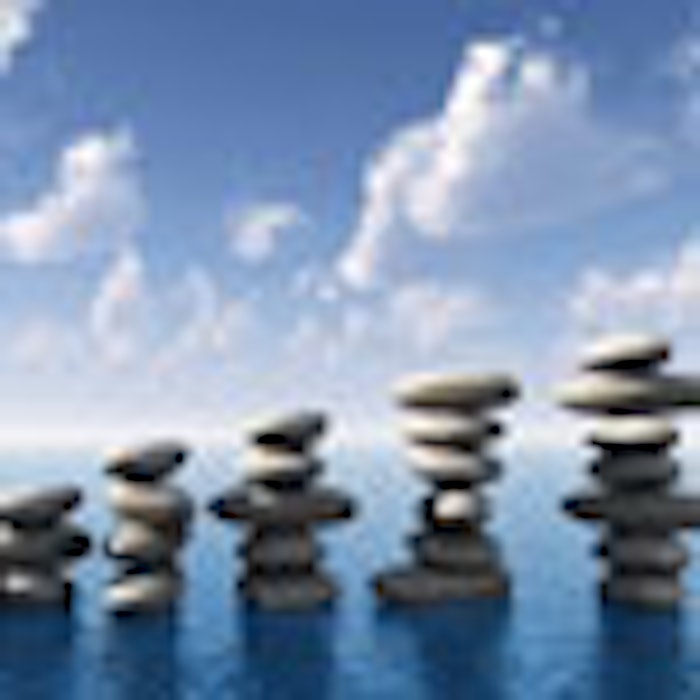 Spa revenue in the U.S. grew 4.5% to $13.4 billion at the end of 2011 from a year earlier amid increases in spa visits and a rise in the number of full-time employees measured in May, a recent study reveals. 
"Against a background of slow recovery in consumer spending the spa industry has kept pace with modest growth in revenues and visits," said Colin McIlheney, Global Research Director at Pricewaterhouse Coopers. "Revenues are up by 4.5% year-on-year to $13.4 billion. Visits are also up 4.1% to 156 million. Prices have stayed stable. The evidence suggests a volume-driven recovery." 
The latest statistics are from the ISPA 2012 U.S. Spa industry Study, which the International SPA Association (ISPA) commissioned PricewaterhouseCoopers to conduct. The survey is updated every year with five key statistics crucial to the spa industry including revenue, spa visits, the number of spa locations, total employment in the industry and square footage.
Spas have implemented a range of strategies to stimulate demand and increase visits. The study reveals that 83% of spas have made one or more changes to their business including increased number of treatment offerings, new retail product offerings, additional spa programs and shorter treatment options. These changes helped to stimulate demand and increase the total number of spa visits resulting in an overall increase in revenue for the spa industry.
The number of spa locations was broadly unchanged at the year end compared to 2010. Employment in the industry has also held steady, with full-time employment estimating to have risen 9.3% to 163,100 reported in May. Meanwhile, contracted and part-time employment numbers were down 13.4% and 4.3%, respectively, in May 2011 compared to a year earlier.
"The spa industry is growing at a healthy rate in revenues and visits," said ISPA President Lynne McNees. "Overall confidence remains high across the board as the spa industry is outpacing economic growth."
According to the U.S. Department of Commerce's Bureau of Economic Analysis, real gross domestic product, the output of goods and services produced by labor and property located in the U.S., increased at an annual rate of 2.8% in the fourth quarter of 2011.
 To view the reported table of the ISPA 2012 U.S. Spa industry Study, click here.