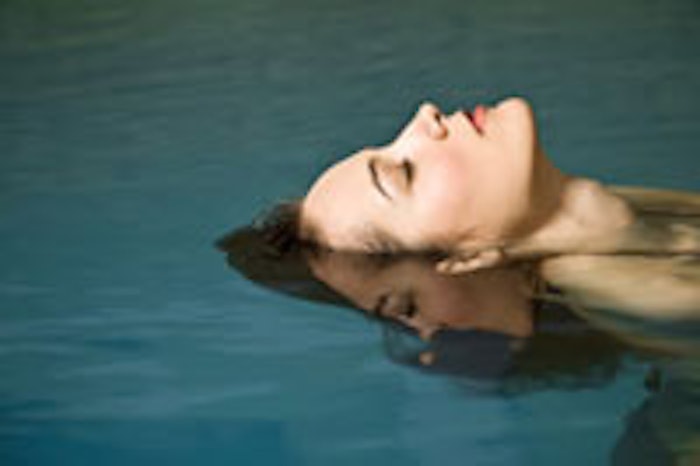 Spa Week Media Group
Spa Week, the U.S. spa marketing event, has leveraged its exclusive relationships with hundreds of its spa partners to release the following list of spa treatment trends in honor of the 15th installment of the Spa Week Event. Taking place nationwide from October 10–16, hundreds of spas, wellness facilities and fitness centers will offer exclusive services for a discounted price of just $50 each.
Following each trend is information exclusive to SkinInc.com from SpaWeek helping you take these trends a step further by offering tips and advice on how to best market these trends to clients and consumers to ensure that adding these treatments to your spa menu proves to be a profitable endeavor.
1. Shirodhara
Drizzling warm sesame oil onto a client's forehead is extremely therapeutic. Shirodhara, which dates back to India approximately 5,000 years ago, is now being incorporated into more and more spa menus, and seen as an add-on to Western treatments, such as body wraps and Swedish massages. The ritual's steady spilling brings physical and emotional balance while giving hair an extreme conditioning. Shirodhara is believed to calm nerves, release stored emotions, purify the mind and fight fatigue, anxiety, insomnia and headaches.
Exclusive marketing advice from Spa Week to SkinInc.com: If your business has a salon and spa, shirodhara is a fantastic service to market to your salon clients to get them to try out a treatment at the spa. Shirodhara is not just a stress-melting spa treatment—it's also a great hair-conditioning service. Think of shirodhara as a gateway treatment to the spa.
2. Bamboo Massage
De-knot the body by getting rolled out like a sugar cookie with a bamboo rolling pin-esque massage. The massage therapist will knead, glide and roll a bamboo reed along shoulders, back and legs to pamper and penetrate tense muscles. Bamboo Massage promotes blood circulation, helps improve sensory nerve perception and results in lymphatic drainage. Bamboo also symbolizes longevity, luck and strength, making it a somewhat spiritual spa experience.
Exclusive marketing advice from Spa Week to SkinInc.com: Marketing Bamboo Massage to loyal spa clients is an easy, cost-effective method to get regulars to try a new service without going out of their comfort zone. Using the actual bamboo reeds in a display or even placing a bamboo plant with signage by the reception desk is an easy way to get clients talking about this eco-friendly treatment.
3. Cupping/Gua Sha
Cupping uses suction on the skin's surface to "suck" stagnant blood from deep beneath the surface, and Gua Sha "scrapes" the skin to mobilize blood flow in a similar fashion. Both alternative therapies provide extreme pain and tension relief, especially on the back. These therapies are becoming more and more mainstream, despite the temporary bruising it causes, as new consumers experience their drastic benefits.
Exclusive marketing advice from Spa Week to SkinInc.com:When people see an image of cupping or Gua Sha for the first time, their initial reaction is usually to wince. Although these treatments may look painful, they are actually world-renowned for offering extreme pain-relief. Get your clients familiar with the procedures of cupping or Gua Sha by videotaping a treatment and sharing it on your Facebook page (or, share Spa Week's video on your Facebook page). Start a dialogue with your clients about the benefits of these two ancient Chinese services. Don't forget to e-mail your clients with a link to your Facebook post so everyone can check out the video!
4. Acupressure
Acupressure employs the concept of acupuncture, only rather than needles, it uses physical pressure of hands, elbows and other devices. Practitioners target specific points along the body's energy pathways, or "meridians," to encourage healing and balance in the individual. Acupressure can provide relief from allergies, chronic arthritis pain and migraines; so pain- sufferers can reap the benefits of this ancient Chinese medicine without fear of being poked.
Exclusive marketing advice from Spa Week to SkinInc.com: An easy way to get spa clients to try out an acupressure massage is to offer complimentary chair massages in your spa's waiting area. After only five or 10 minutes, they will be hooked!
5. Boozing with benefits
More and more spas are incorporating alcohol into their treatment offerings. Champagne and wine-infused treatments can smooth skin tissue, stimulate blood flow and are a powerful ingredient in anti-aging. Beer yeast is rich in elements that increase skin elasticity and improve acne by suppressing sebum. Even Scotch whiskey is showing up on the spa scene; it's full of sugars, minerals and vitamin B-6, giving it excellent hydrating and anti-inflammatory properties.
Exclusive marketing advice from Spa Week to SkinInc.com: Adding alcohol to traditional spa services is a fun, cost-effective way to bring in extra revenue. For example, you can charge more for a body scrub if it's a Bourbon and Brown Sugar Body Scrub, and adding the bourbon is at little cost to you. Market different alcohol treatments during different seasons and holidays; try rum spice during the fall months, eggnog during the holiday season and champagne during New Year's and Valentine's Day.
6. Shellac attack
A cross between gels and a regular manicure, spa-goers love these manicures because they get a long-lasting, no-mess result, and spas love them just as much because it brings in new clients and revenue, without increasing the service time.
Exclusive marketing advice from Spa Week to SkinInc.com: Be sure to have lots of signage in your reception and manicure areas. A fun way to get these manicure customers to come back every two weeks is with a stamp card. For every manicure they purchase, the client gets a stamp, and after 10 stamps they get a free manicure. Similar to the cards that get you a free smoothie or salad, using a stamp card will reward loyal, regular clients.
7. Men's treatments
Did you know men make up for 31% of active spa-goers? And did you know the most common spa packages offered are for men, with 45% of U.S. spas offering such a package? By incorporating no-frills, guy-friendly scents like sandalwood, mustard seed, eucalyptus and thyme, spas are able to successfully market to men. Hot Shaves, Gentlemen's Facials, Golf Ball Massages and more have enticed male consumers to experiment and experience the health benefits of the spa just as frequently as their female counterparts.
Exclusive marketing advice from Spa Week to SkinInc.com: What's the best way to market Men's Spa Treatments to men? Market treatments to their wives, girlfriends and mothers instead! Provide an incentive for female clients to bring in their husbands, boyfriends, fathers, brothers and male friends. Also, promoting a deal on couples massages is a romantic approach to get regular female clients and to bring men into the spa arena without them feeling awkward or girly. Another way to make pampering appealing to men? Make sure men's services are named appropriately; think Gentlemen's Facial as opposed to Man's Floral Facial.
8. Mobile spas
Mobile spas are in high demand as they conveniently bring the day spa experience right to your home, office or venue. With gas prices at an all-time high, the mobile spa experience saves time and money, and is now a popular and sought-after addition to wellness and bridal parties, and even corporate events.
Exclusive marketing advice from Spa Week to SkinInc.com: If you own a mobile spa, you already know the best marketing tool is your actual spa-mobile. Using your spa-on-wheels as a moving advertisement in high-traffic residential and commercial areas, such as shopping districts, is free advertising. Another way to acquire new clients is by partnering with local businesses. Putting coupons, images of your mobile spa or business cards in flower shops, dry cleaners and bakeries is a smart way to get everyone from party planners to bridal parties interested in booking your mobile spa for their next event. Don't forget to offer prenatal services on your menu, as well. This will definitely catch the eye of homebound moms-to-be who can't drive due to belly size.
9. Deep sea spa-ing
The word "spa" is derived from water, so it is a wonder that water-based spa treatments are so often overlooked. However, more and more aquatic treatments, such as hammam rituals, Vichy showers and Watsu are booming trends, especially in hotel spas. Each of these water treatments utilized hydrothermal therapy to relax tight and sore muscles and promote smooth and cleansed skin all while stimulating blood circulation to promote healing. Hammam rituals combine heat, aromatherapy, steam, bubbles, water and mud to cleanse the skin and detoxify the body. A Vichy shower is a unique aquatic therapy that invigorates your body while laying flat under powerful water jets, inspired by treatments used in the French city, Vichy. Watsu, short for water Shiatsu, is a massage performed in a warm, shallow pool as the water gently cradles the client so the massage therapist can work the full 360 degrees of your body.
Exclusive marketing advice from Spa Week to SkinInc.com: Market water treatments to your clients by creating packages using your hammam or Vichy shower. For example, create a package around a spray tan by adding a Vichy shower treatment followed by a body scrub and then the actual spray tan. You can charge more for the bundle and still give your clients a relaxing, total-body spa getaway.
10. Spa with a conscience
"Green" spas and treatments are thriving right now in the industry; spa owners are making critical revisions by incorporating renewable energy, holistic and eco-friendly services and indigenous ingredients into their businesses, and it's paying off in the long run. More and more consumers are considering a spa's environmental philosophy, along with price and location in their decision to visit a new spa. Spas are practicing conservation by purchasing organic linens, biodegradable aesthetic gauze and eco-friendly cleaning supplies to keep each guest sanitary and safe during their appointment.
Exclusive marketing advice from Spa Week to SkinInc.com: Offering green services is fabulously chic way to show clients that your spa cares about the environment just as much as you care about them. Purchasing organic cotton linens and aesthetic apparatus is a healthy and affordable way to go green. Try incorporating organic skin care products with local, indigenous and seasonal ingredients. It's an exciting way to keep your menu of services fresh! Promote these services in a special section on your online menu, under the header "Seasonal Treatments," or "Green Services," and add colorful, descriptive words such as "organic", "sustainable" and "recycled" to your menu to get clients talking and booking.