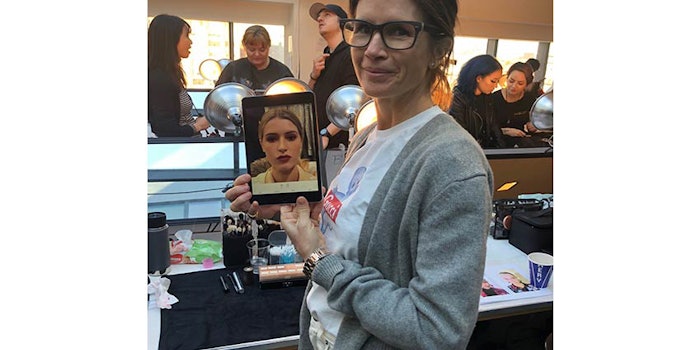 Makeup artist Gucci Westman utilized the augmented reality app Perfect365 PRO to design looks for the Badgley Mischka A/W 2018 fashion show, replacing the traditional paper face charts.
Perfect365 PRO allows makeup artists to develop looks before applying them, and communicate with clients via virtual try-ons where the latter can test a look in photos or through the "live mirror" feature.
The partnership also allows Perfect365 app users to try on the look Westman created after the show. Westman also utilized the technology for the designer's S/S 2018 show last September.
"I was really excited to use the Perfect365 PRO app during New York Fashion Week again this year," said Westman who, along with fashion shows, has done red carpet makeup for stars such as Julianne Moore and Cameron Diaz. "I love the color drop feature, where I can take a photo of a product I am using and apply it to a look I am creating, or try the product on virtually right then and there. The app streamlines the whole process of creating a makeup look, but also offers unlimited creative possibilities, and I think it's a vital tool for makeup artists, during New York Fashion Week and beyond."
Added Perfect365, Inc. director of marketing Cara Harbor: "We are thrilled to work with a makeup artist as renowned and respected as Gucci Westman. Perfect365 PRO has continued to gain traction among makeup artists interested in designing looks for clients, in addition to its continued usage at NYFW to communicate makeup looks backstage."