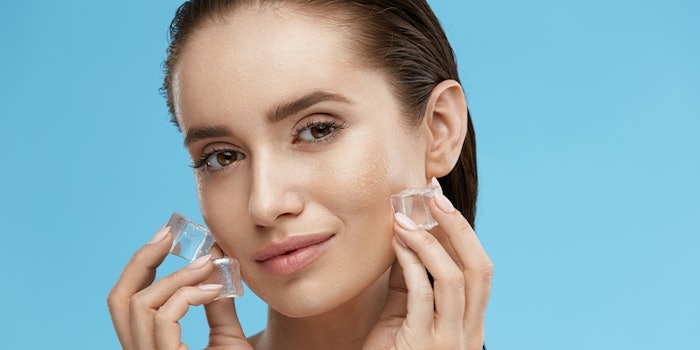 Trends like at-home eyelash perming and sunscreen contouring have taken over TikTok in 2020. Now, 2021 brings a new trend: skin icing. Popsugar and celebrity facialist Candace Marino discussed this new trend and how beneficial it actually is.
Related: "Soap Brows" Were One of 2020's Biggest Beauty Trends
Skin icing is essentially rubbing ice on your skin. This is said to "reduce inflammation, redness, and puffiness, while also stimulating circulation and helping to sculpt the face," per Marino. 
While rubbing an ice cube on the face can benefit the look of skin, it can get messy as the ice melts and hands can get pretty cold. Luckily, this isn't really a new trend; ice rollers are essentially the same technique with less mess and all the same benefits.
Ice rollers are popular in both spa treatments and at home treatments. Spas have also been using this technique for awhile in body contouring treatments, body freezing treatments and cryotherapy. 

According to Marino, "It [skin icing] is the same concept, but now we're using it for aesthetic purposes. Many people who suffer from inflammatory skin conditions like acne and rosacea can benefit from cold therapy because of its ability to reduce the inflammation on the skin, which is a key trigger to both conditions."
Marino adds, "Stimulating the skin with your hands or tools will help improve circulation, which delivers oxygen-rich blood cells to the face, bringing life to the skin and warranting a glow."