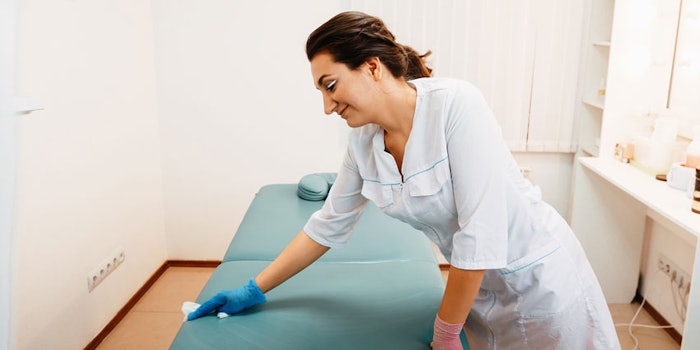 The Esthetics Council has provided service and environmental disinfection guidelines for estheticians to follow in the midst of the COVID-19 (the coronavirus) outbreak.
"Our goal as a national organization is to support estheticians and help provide information to keep you safe. Our current challenge, COVID-19, poses a high risk for estheticians and their clients." -Esthetics Council 
Service Guidelines
The first category of guidelines that the Esthetics Council provided is all about keeping yourself safe prior to the service, during the service and after the service. Their basic tips included:
If you have any symptoms, stay home and contact your doctor or local health department;
Avoid touching your face, even with gloves on;
If you are self-employed, be sure to communicate with your clients about cancellation notice as well as what your disinfection procedures are;
If you are an employer, waive cancellation and re-booking fees and allow for additional time between services to fully disinfect the area;
Consider hiring support staff that can assist the esthetician in fully cleaning their area quickly and safely while maintaining retail sales;
Have multiple sets of tools, supplies and linens available to speed up the treatment room turn around; and
If you have access to an autoclave, use it for all metal implements/tools.
Related: Dermalogica Hosts Webinar Addressing Coronavirus Impact
Prior to Service
The Esthetics Council further broke down tips to follow specifically before you begin a service.
Clean the room. Make sure that all surfaces, devices, linens and tools are cleaned and disinfected. (See Environmental Guidelines for further instruction).
Wash your hands. This has been stated and repeated, but when washing your hands do a thorough job by following these tips.
Use a nail brush;
Do not use an antibacterial soap;
Use a disposable towel to dry hands and discard in a closed trash can;

Wash your hands for a minimum of 20 seconds. (Note: Keep your hands moisturized as excessive dryness will impact the skin's barrier, which can cause infection); and
When using alcohol-based hand sanitizer allow it to dry for a minimum of 20 seconds.
Set up. The treatment room can be set up at this time after the previous steps have been followed. 
Keep to yourself. Do not shake hands or touch your client when initially greeting them.
During the Service
The Esthetics Council also provided a thorough checklist of the steps to follow while you are conducting the service as well to keep you and your client safe. 
Wear gloves. Put gloves on before toughing your client, and be sure to change them as needed. Use close fitting nitrile gloves to avoid possible allergic reactions to latex. 
Wear a mask. If it is possible or available to you, wear a mask during the service. The goal of this to protect your client from respiratory droplets that you can spread regardless of your infection status. This will NOT protect you from getting COVID-19. Consider wearing a face shield if a mask is unavailable, but be sure to fully disinfect it after use. 
Porous and non-porous supplies. Be sure to discard porous items immediately after use in a closed trash container. For non-porous tools, place them immediately in a closed container labeled dirty. 
Dispensing products. Do not dispense the product directly onto the client's face from the container. Instead, place products into a small bowl or ramekin before placing it on the cart. 
Makeup artists. The Eshetics Council supplied specific tips for makeup artist during this time including:
Use a spatula to dispense color onto a pallet;
Do not work directly from the tester;
Never use the back of your hand to mix color or test before applying; and
Use disposable brushes whenever available. (Note: Constantly disinfecting brushes will cause you to go through them very quickly.).
After Service
Finally, the Estheticc Council laid out the steps to follow once the service has concluded. 
Linens. Immediately remove all linens and place them into a closed hamper or directly into the washing machine. You can do this after you have escorted your client out of the room.
Disinfect, disinfect, disinfect. Follow appropriate disinfection procedures for you tools and devices. Generally follow these steps:
Clean non-porous items (brushes, spatulas and metal tools) with soap and water, dry, immerse in EPA approved disinfectant for recommended time, remove, rinse, dry and place in a closed container. 
Discard porous items immediately into a closed trash container. 
Wash your hands. After your service has concluded, wash your hands following the recommended guidelines previously stated. This can be done after the checkout is completed. 
Credit card payments. If the client is paying in credit card, key in the number to avoid the client touching the terminal. 
Related: 9 Tips to Keep Your Spa COVID-19 Free
Environmental Guidelines
The Esthetics Council broke down their guidelines for cleaning your spa environment into cleaning the devices, surfaces and linens. They also made the important note that whenever cleaning anything in your spa, gloves should be worn. 
Cleaning Devices
Starting with tools and devices, the Esthetics Council laid out the following tips:
Wiping down. When wiping down devices, wipe down the device case, electrode handles and wires with a disinfectant wipe. 
Client contact. Electrodes, tips and anything else that came in direct contact with the client should be disinfected using the non-porous tools instructions. Leave metal conductors out of the solution to avoid corrosion (these should never be in contact with the client). 
Mark it clean. After fully cleansing the entire device (electrodes, tips, handles, etc.) place it in a closed container marked "clean."
Steamers. Empty your steamer at he end of every day. 
Hot cabinet. Disinfect the interior of your hot cabinet and leave the door open to dry. 
Waxing services. Use a wax collar and dispose of it after each waxing service. Always use disposable applicators and discard immediately after use. Never double dip. 
Cleaning Surfaces
As previously stated, the Esthetics Council implores that gloves should be worn for all surface cleaning. 
Disinfect. While cleaning the surface, spray it with an EPA registered disinfectant (bacterial viricidal and fungicidal). Be sure to leave the surface wet for the full contact time listed on the label. 
Wipe it down. Use paper towels to wipe the surface clean, and then discard the paper towels in a closed trash container. 
Product bottles. Wipe down the product bottles with a disinfectant wipe following full contact time on the label. 
Mop. At the end of the day, mop the floor. A disposable floor cleaner (i.e. Swifter) can be used. 
Cleaning Linens
After the service, place the dirty linens directly in a closed hamper or directly in the washing machine. From there, the Esthetics Council provided these tips:
Bleach. Use bleach or a different EPA registered disinfectant laundry additive. Follow the manufacturer instructions for correct water temperature. 
Dry. Place the linens in the dryer immediately after the wash cycle is done. Do not leave the linens in the washer overnight. 
Storing. Fold the clean linens and place them in closed cabinets or other storage areas. 
Uniform. Wash your uniform nightly. Multiple uniforms or smocks will be needed if laundry cannot be done daily. 
Related: COVID-19 Petition Fights Economic Hardships in Spas
The Esthetics Council notes that while most of these guidelines and practices are already in daily use in spas, the extra steps and care during this time will help comfort the client and provide extra protection from the virus. Make sure to vocalize to your staff, clients and community how you are taking additional steps to protect everyone. 
The Video From The Esthetic Council