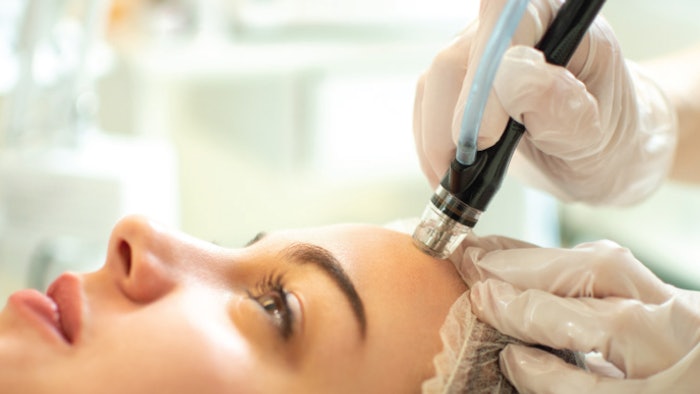 Hello esty besties! If you didn't already notice, our associate managing editor, Maggie Walker, is taking a break on this month's On My Radar for me to pop in to talk all things wedding. As an October 2023 bride, I am in the trenches of wedding planning. With only four months until the big day, not only am I fine-tuning the details, but also continuing and starting to map our my pre-wedding esthetic treatments to help me get the ultimate bridal glow.
The June issue is the perfect opportunity for me to share my wedding treatment timeline, which is exactly what this month's magazine is helping you do with your bridal clients. I've compiled a few of the treatments I can't wait to receive before I say "I do," and I hope it serves as inspiration for your wedding service menu!
1. Hydrafacial
Now that I have been a skin care editor for over two years, I have finally gotten into a regular schedule of receiving facial treatments. Because I have been maintaining my skin, I have managed to keep any acne or aging concerns under control. My main goal for my wedding is to have the bridal glow from within, and Hydrafacial is going to help me achieve that. I plan to receive this service a week, to a few days, before the wedding as a non-invasive method to rejuvenate my skin, leaving me with the perfect canvas for my wedding makeup!
2. Body Sugaring
As someone with a relatively low pain tolerance, body waxing has never been my favorite treatment. While I usually avoid this service, hair removal for my body is something that I want to book before my wedding day. Body sugaring is the perfect alternative because it is relatively no pain, and it uses all natural sugaring ingredients. I can guarantee that I will have smooth and glowing skin in my dress, and on my honeymoon (in Greece)!
Related: Industry Pros' Essential Tips for Bridal Skin Prep
3. Teeth Whitening
This is a service that I knew I wanted to book from the beginning of my wedding planning process. I have never had a huge issue with the color of my teeth, but when I thought about how many photos will be taken of me on the big day, a whiter smile didn't sound so bad. I have begun the process of whitening my teeth, and will continue to receive these services until my wedding. If you perform these services, or know any colleague in teeth whitening, wedding season is the perfect time to offer treatment pairings for your brides!
4. Spray Tan
I don't think that this treatment needs much explaining. Who doesn't want to have the perfect bronzy glow on their wedding day? I typically use at home self tanning products throughout the year, but my application isn't as seamless as a professional. You can bet that I will be booking a full body spray tan a few days before the big day. I am hoping to still have a bit of a summer tan, but we all know that cold temperatures are possible in October in the Midwest. Thankfully, I will be glowing no matter what!