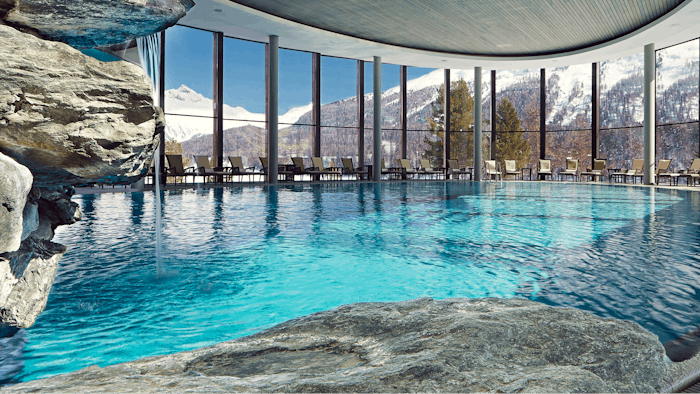 Courtesy of Badrutt's Palace Hotel
Well-being has been built into the lifestyle at Badrutt's Palace Hotel in Switzerland, where guests can treat themselves while surrounded by the Swiss Alps. The Palace Wellness Spa is packed with unique offerings, and its summer treatment menu highlights rejuvenation and relaxation with these four services. 
Related: Relaxation in the Swiss Alps with Palace Wellness
1. Detox and Body Shaping
This treatment breaks down fatty tissue and toxins using detoxifying algae. The process also opens the body's channels to facilitate the elimination of toxins and fluid retention to reshape and energize the body.  
2. Regenerating Vernix Facial 
Using a recreated Vernix formula, this facial treatment is ideal for sensitive and stressed skin. It repairs damage, optimizes hydration and accelerates epidermal reconstruction and regeneration.  
3. Alpine Renewal
Rich Alpine ingredients and floral salt crystals are used to deeply exfoliate from head to toe. New cells are nourished, giving the skin a renewed and smooth finish. Guests then receive the Relaxation Massage, which relieves tension, promotes circulation and relaxes the nervous system.
4. Customized Massage
Beneficial for those suffering from muscle tension, restriction of movement or body misalignment, this treatment begins with breathwork and stretching to loosen up the body. A series of therapeutic massage techniques follows to bring relief while improving mobility and balance.