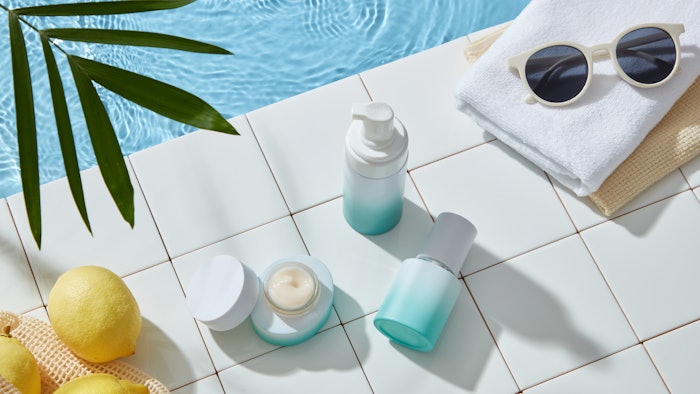 Skin Inc. Associate Managing Editor Maggie Walker shares what's on her mind this month.
May is going to be a very busy month for me, filled with a lot of travel. At the beginning of May, I am going to be heading to warmer, sunnier tides in Italy and right after I get back, I will be heading straight to ISPA in Las Vegas. Much like how I am going on an adventure, my skin also tends to go through a journey whenever I travel. At this point, I have mastered the products I need to bring to make my skin love me, even with all of the changes. Here are my go-to grabs when it comes to what my skin and body need when I travel.
1. Bath Soak
One thing both of these trips have in common is that I am going to be on my feet A LOT. I absolutely love to bring some bath salts with me when I plan to do a lot of walking, just to soak my feet specifically. The Crystal Hills Organics Crystal Dreams Bath Salts are an excellent option while traveling, as they are infused with essential oils like lavender, ylang-ylang and geranium, as well as amethyst crystals to help manifest more zen.
2. Hydrating Mist
I swear something about the air on a plane just sucks all of the moisture out of the skin, so having a wonderfully hydrating mist to apply during the flight, as well as after you land, is key to keeping the skin hydrated. The Circadia Blueberry and White Tea Hydrating Mist is just what the doctor ordered for this. While this mist is not in a travel size, I like to (very carefully) pour the mist into my travel size spray bottle, so I can bring it with me on the plane and spritz my skin whenever it is feeling dry.
Related: The Top Spa Travel Destinations
3. Sheet Mask
When it comes to traveling, I still love to get my mask time in, but traveling with masks can be tricky. That's why my go-to move is to grab a few sheet masks that I can use during my vacation. The I MASK Hydrating Hydrogel sheet mask from Image Skincare is perfect for this. As we know, I am a dry skin girly, so I love the hydrating aspect of this mask, as well as its cooling and soothing properties and its small size makes it ideal for traveling.
4. Sun Protection
There are two things you should know about me: I am incredibly pale, and I love to glam myself up. However, as we all know, makeup does not provide nearly enough SPF coverage, so you can see how this might cause some issues when I'm doing my outdoor excursions on my vacation trips. That's why I turn to the Seriously Fab Zinc It Over SPF Mist. My favorite is the Fresh Greens because it provides a nice cucumber scent that is even more soothing when out in the hot sun. This mist can be used as a setting spray, while keeping me wonderfully protected.
5. Squeaky Clean
You might be thinking, duh Maggie, you need to cleanse your skin while on a trip, but finding a travel friendly cleanser can be a bit of a challenge. However, the 4-in1 Cleansing Sponge by Alana Mitchell is my favorite cleanser to bring on my trips because it is so travel friendly. These little cotton balls are small, and all you have to do is add some water to get a nice deep clean that brightens the complexion and is hassle free, mess free and easy to throw in your travel bag.