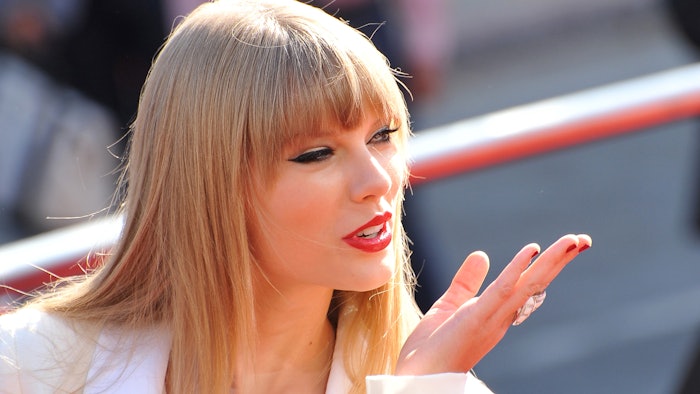 Skin Inc. Associate Managing Editor, Maggie Walker, shares what's on her mind this month.
I know I'm not alone when I say that Taylor Swift has been occupying my brain a lot lately. Apart from her latest album release, Midnights, that I have been listening to nonstop, she also surprised all of her fans (myself included) with the announcement of her Eras tour. One of her songs that I can't help but play over and over is "Bejeweled." This song is the epitome of the energy I want to enter into 2023 with. In her career, Taylor Swift has made some iconic ballads, which is what inspired me for this month's On My Radar. I gathered some amazing skin care products that tie in perfectly with some of my favorite Taylor Swift songs.
1. Red
Are we really even talking about Taylor Swift, if we don't mention the red lip? Jane Iredale's Beyond Matte Lip Stain in Longing is a truly iconic red that I think Taylor would highly approve of due to its long-lasting formula that is rich with plant-based oils.
2. Cruel Summer
Taylor Swift's top skin care advice is to always wear your sunscreen all year round, especially when the summer sun can be cruel. An SPF I am sure would get the Swift stamp of approval would be the TiZO AM Replenish Non-Tinted SPF 40. The use of zinc oxide and antioxidants protect the skin against UV damage while restoring the lipid layer.
3. Bejeweled
Taylor said it best "A diamond's gotta shine." So, if I'm the diamond that means I want that beautiful, glowy skin, and the perfect spa tool to give that to me would be Le Mieux's Ionized Oxygen Infuser. This infuser dispenses an ultra-fine, line filling mist for instant volume and a "glass skin" glow (perfect for being bejeweled).
4. I Knew You Were Trouble
While Taylor might have been singing about a boy, I am 100% talking about an unwanted pimple that decides to pop up right before a big event. The perfect spot treatment for a pesky breakout would be the Yon-Ka Paris SOS Spot Roll-On Blemish Treatment. This roll on spot treatment works fast to soothe, purify and heal blemishes.
5. You Need to Calm Down
I have definitely had moments like this with my skin, when it's in desperate need of some serious rescue. Hale & Hush's Bio Relief Powder is the perfect product for helping your skin calm down with a blend of eight botanical extracts to relieve skin of redness, itchiness and irritation.
Continue reading the rest of our December content in our Digital Magazine...