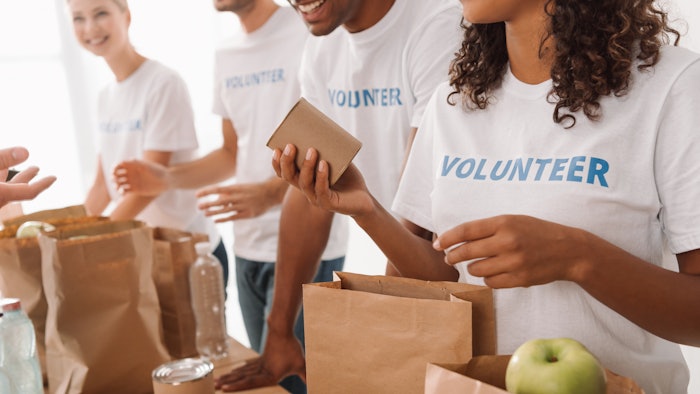 It's a new year, and a time when most of us make resolutions of things we want to do to be better. Oftentimes, those goals are tied to weightloss or our own personal health, but what about the health of the planet and the people that live in it? Consider resolutions this year that will make waves far past your community. Here are some spas and product manufacturers that have done great things for the world around us.
1 Organic Food for Kids
In 2013, Éminence Organic Skin Care founder Boldijarre Koronczay started the Eminence Kids Foundation, which provides organic nutrition for kids recovering from illness. The foundation was inspired by Koronczay's own battle with leukemia as a child, during which organic foods played a big part in his recovery. Every purchase of the company's products benefits the foundation, and they have provided 140,894 organic meals to kids with illnesses to date.
https://eminencekidsfoundation.org
2 Planting Trees
Bioelements has partnered with One Tree Planted for forest fire recovery. Its recent campaign sequestered 28,000 lbs of carbon for forest fire recovery. To date, its partnership has planted forests that can remove 60,000 lbs or carbon dioxide each year.
www.bioelements.com
3 Regaining Identity
Brilliant Bodywork founder and licensed esthetician Stephanie Andresen founded Restorative Ink to help domestic violence and human trafficking survivors regain their personal identity. Not only does she offer these survivors tattoo and branding removal free of charge, but she also assists in directing them to resources for the path to healing.
4 Women At Work
Grande Cosmetics partnered with Working for Women (W4W) on a cause-related corporate mission—Grande4Women—to elevate women who are marginalized to financial independence. The company will donate $200,000 to W4W and participate in mentoring workshops.
www.grandecosmetics.com/pages/grande4women
5 Promoting Inclusivity
The Harvey Milk Foundation is an organization very dear to the heart of DMK founder Danné Montague-King, who not only serves as their Global Ambassador, but also donates a significant portion of all DMK Limited sales to the foundation.
www.dannemking.com/dmk-limited
6 Veteran Stress Relief
It's great to honor veterans on Veteran's Day, but what about the other 364 days of the year? TruRest Float Spa offers veterans and active military free floats on the 11th of every single month.