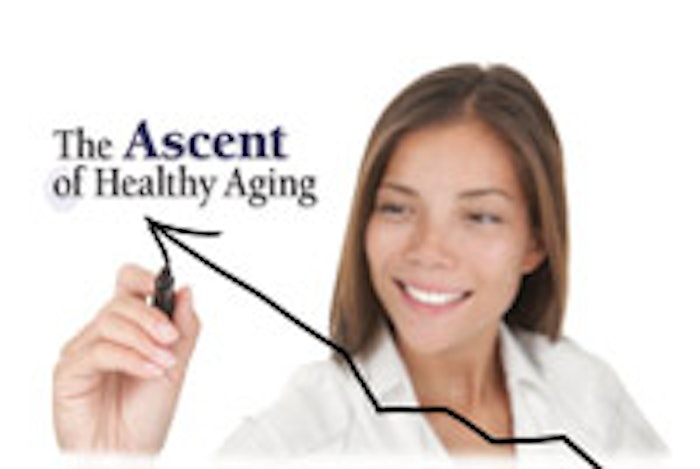 Skin care is by far the most important category in the global beauty and personal care industry, accounting for 23% of total sales in 2009. Within this category, anti-aging products is the star performer. Although growth slipped slightly to 7% in 2009 from 9% in 2008, it still far outperformed the overall global skin care category—3% growth—as well as the global beauty and personal care industry—4% growth.
The success of anti-aging skin care is strongly linked to the continued aging of the world's population. According to Euromonitor International data, the number of people between 60–64 increased by 5% in 2009, up from 1% in 2005. These baby boomers, who are often retired and own their own homes, were far less affected by the global economic downturn than their younger counterparts, and remained reluctant to trade down from higher-priced products that promise to fight off the effects of aging.
In addition to boomers who are increasingly looking to remain active and attractive in their 50s and 60s, women in their early 20s are looking to eliminate the premature signs of aging. As a result, demand for anti-aging products has risen dramatically, and product development in the category has become increasingly segmented in order to cater to the skin-type needs of different age groups.
Premium anti-aging
Despite some people downgrading to less expensive products during the recession, premium skin care is primed to see the biggest increase in value size of any premium segment, with $2.6 billion set to be added during 2009–2014, equating to 40% of absolute growth in the entire premium beauty industry. This performance will be driven by strong demand for premium anti-aging products in Asia, especially China. Even in Western markets, such as the United States, sales of high-end anti-aging products have remained comparatively buoyant as consumers have evidently attached greater importance to fighting the aging process than to other areas of beauty and personal care, and the perception of a link between price and efficacy remains strong for many consumers. Despite declines in many other areas of skin care, recession-hit France saw 3% value growth in premium anti-aging skin care in 2009, up from 1% in 2008.
Anti-aging growth in mature markets
The U.S. skin care category is expected to swell by $264 million during 2009–2014, largely driven by anti-aging products. Although cleansers, acne treatments, and body and facial moisturizers have reached maturity and are expected to see sales growth slow or even decline, the anti-aging category shows no signs of slowing down. Demand for anti-aging products will be driven by the aging U.S. population, with the over-50 group set to grow by just more than 10 million during 2009–2014.
Even in the notoriously frugal German market, anti-aging products showed the strongest growth in 2009, with the category growing by more than 7% in value terms. As in the United States, Germany's population is an aging one, and the consumer group for anti-aging products is growing on a daily basis. Although anti-aging products historically were used only by consumers over the age of 50, they are now being purchased by consumers, both women and men, in their 30s and even younger.
A rise in private label anti-aging
Globally, private label's share in skin care has remained low—during the 2004–2009 period, its share in global skin care remained below 3%. In Western Europe, however, private label anti-aging products have had much more success, doubling their share from 3% in 2004 to 6% in 2009.
This growth has been driven primarily by some notable, high-profile successes for individual private label anti-aging products from mass retailers, such as Alliance Boots in the United Kingdom. Its private label anti-aging product, Protect and Perfect, has proved successful as a result of being scientifically proven in independent tests to reduce the appearance of wrinkles now also being sold in continental Europe, and retails at prices that rival masstige skin care brands. The discount chain, Aldi, has a private label anti-aging range called Lacura, which has also outperformed branded anti-aging products in similar tests.
These launches have helped improve the public's perception of private label anti-aging offerings and provide a lesson for skin care players in other regions—that subjecting even a few products in their brand range to these kinds of trials could bring similar rewards, and raise the consumer perception of their entire product range.
Looking East
Pale skin is considered beautiful in Asian markets. Given this cultural ideal, there has always been strong demand for skin lighteners. In addition, the need to remain young-looking in a competitive job market means that key, up-and-coming skin-lightening ingredients in Asia are now pervasive in anti-aging products and are helping to drive global sales. The key difference is that, thanks to rising disposable incomes in these emerging countries, consumers have more money than ever to spend on them.
This is generating interest from multinational players keen to get a share of the market. In 2009, 10% of China's $2 billion anti-aging market was comprised of products with added whitening features. China is forecasted to grow its anti-aging industry an additional $1.3 billion by 2014, while the emerging Thai market is also a big draw for players, with 48% of all anti-aging products sold in the country in 2009 offering additional whitening properties. The country is set to add more than $260 million to its anti-aging product market by 2014. Markets such as these make Asia a potential major region for investment from multinational skin care firms, which are often favored and trusted by consumers instead of domestic players.
Choosing the right ingredients
Although many consumers are willing to pay a premium to stave off the signs of aging, a proven track record of scientific efficacy is always a draw, regardless of price point. It is no longer enough for skin care products to make claims about their role in preventing the signs of aging; they are now under pressure to prove it.
For ingredient suppliers, active skin ingredients with proven efficacy are already among the stars of the market for personal care ingredients. Overall, volume sales of active skin ingredients posted a compound annual growth rate (CAGR) of 5% during 2004–2009 and are projected to grow 3% annually during 2009–2014. This is almost double the growth rate forecasted for all personal care ingredients, so it is no surprise to see ingredient suppliers dedicating hefty research and development budgets to exploring new active ingredients and their delivery systems.
Innovators have certainly not limited their horizons when it comes to researching technological advances in skin care, with some almost space-age concepts being investigated alongside more recognized technologies. Key themes for ingredient innovators in the coming years include stem cell technology, which is being touted as a possible focus for future new product development, with some plant stem cells already in use in the industry. DNA-customized formulation is another possible future concept, based on the idea of customizing personal care to target the needs of specific consumer types. It may seem futuristic, but the science of genetics has come a long way in a relatively short period of time, so innovation in this area is by no means implausible.
Outlook
Growth in the skin care category will continue to be driven by anti-aging products. Ultimately, most consumers will sacrifice many other areas of consumer goods before they will alter their attempts to hold on to a youthful appearance. As a result, the anti-aging product category is set to gain more than $5 billion during 2009–2014, far outshining the performance of other skin care categories, such as facial cleansing wipes, predicted to rise by a more modest $115 million, and toners by just $110 million. The crucial reason behind this difference in performance is consumer perception with regard to the long-term effects of these products on skin. Anti-aging products are seen by many as an investment in future skin health, while the latter two examples are not. Depending on their clientele, spas would be well advised to consider focusing their retail areas and spa menus on offering high-quality, scientifically proven anti-aging products and treatments rather than offerings in the categories that are set to be affected by consumer cutbacks.
Carrie Lennard is an industry analyst for global market intelligence firm Euromonitor International. She directly contributes to the content and quality of Euromonitor's cosmetics and toiletries research, which provides a strategic analysis of the global market and in-depth coverage of the cosmetics and toiletries industry in more than 80 countries worldwide.
To identify professional spa suppliers that offer anti-aging products, log on to Skin Inc.'s Online Buyer's Guide, choose "spa product Manufacturers," search "face" or "body," and then choose "anti-aging."