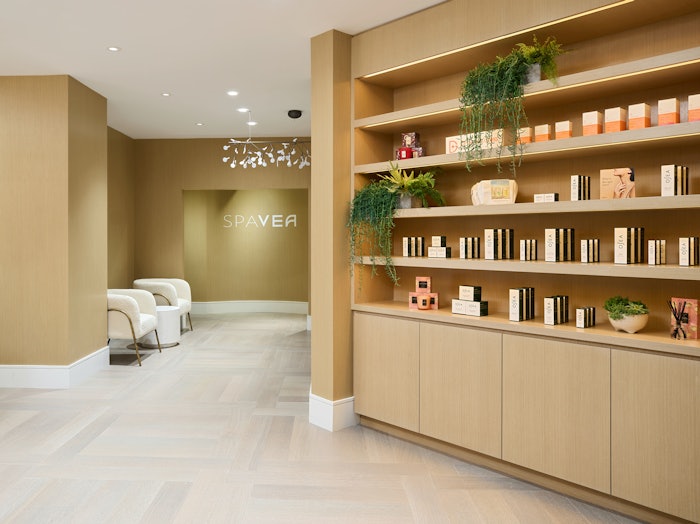 Photo courtesy of Spa Vea.
Spa Vea, Newport Beach, CA
Spa Vea's director of spa and well-being Rachel Rozzelle and Shannon Cook of Shannon Cook Design, sat down with Skin Inc. to discuss designing a spa space that balances aesthetic, functionality and operations.
1. Tell us about the aesthetic of your spa's interior and the emotion you are looking to evoke from customers?
We wanted to create a serene, tranquil ambiance that would instantly calm guests upon arrival. Crisp lines are juxtaposed with soft lines in a natural earthen color palette and accented with lush greenery to further this natural, soothing aesthetic.
2. What inspired your design components and process?
Spa Vea's natural organic components are inspired by beach sands and coastal greenery, given our stunning Newport Beach location overlooking the Pacific Ocean.
3. What is the most important thing to remember when designing a successful spa space?
A successful spa perfectly balances design aesthetics, functionality and operations.
4. Does your spa have any unique features or design aspects?
Providing luxurious full-service amenities, including a steam room and sauna, are essential offerings for well-being, and both are offered at Spa Vea. The added benefit of our private outdoor saltwater lap pool offers co-ed options for socializing as the perfect complement to any day at the spa.
5. What advice would you give to someone who is designing their spa's interior?
The interior of a spa should align with your overall brand messaging and spa intention, while setting the stage for the menu of services to seamlessly interconnect.
Check out our Digital Magazine for more information and imagery on Spa Vea...