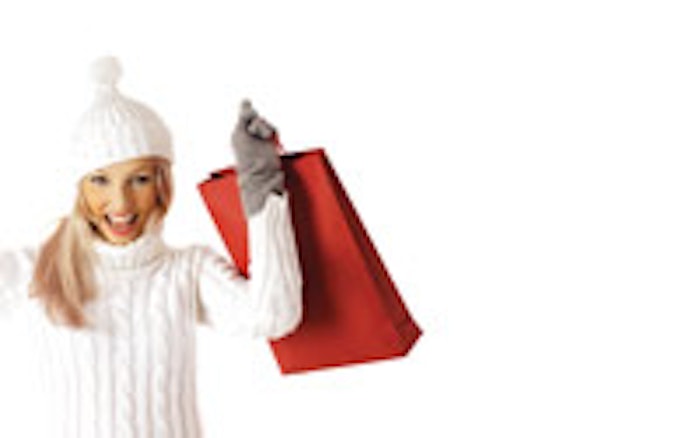 You've heard it over and over again: Black Friday is when merchants finally make money at the end of the year. The holiday season is when merchants earn 25–40% of their entire year's sales. In 2010, holiday sales represented 19.4% of total retail industry sales. There is a lot riding on the last few weeks of the year in terms of sales. Are you ready? Have you thought about it? Will you offer the same promotions as in past years? Use the same decorations? Host the same events? Are you going to start thinking about the holidays around November 21 and begin to get ready right after Thanksgiving, just like you've been doing for the past 10 years?
If this describes your skin care facility's holiday plan, and last year's sales and profits were down, don't expect anything different this year. The public spending dollars are fewer than in past years, and retail merchants know it. Think back to last year's holiday season. Retail merchants were more competitive, creative and aggressive in getting their share of the sales pie. Major retailers used e-mail blasts constantly to pull consumers into their stores with amazing specials. So while many stores were getting the larger slice, many skin care facilities were doing the same old thing.
Stores last year started the season earlier, stayed open longer and offered better promotions. Did yours? It may be hard to believe that each year, many consumers start their holiday shopping before Halloween. Although little advertising is done during this time, stores will put merchandise on shelves because many people like shopping earlier to spread their spending out over a longer period of time ... and dollars spent elsewhere are not being spent at your spa.
Business is being done differently than ever before. Data from IBM states that online shipping jumped 16.4% on Christmas Day over the previous year, and the dollar amounts of those purchases that were made using mobile devices catapulted 172.9%. Last year, $27 billion was spent on Black Friday and $26 billion was spent last year on Super Saturday. The numbers are staggering.
The skin care industry enjoys what every major retailer dreams about: a regular flow of loyal, repeat clients. So, given all of this information, are your sales going to increase by just doing business the way it's been done in the past? Probably not. Following are three ideas to help drive your holiday business and strengthen your profits to increase your cash flow for the start of next year.
Host an October pre-holiday sale
Because many clients like to start early to spread their dollars over a longer period of time, why not get some of those dollars? Pull everything out that was left over from last year; put specials on all of the current retail items on the shelf; get an early shipment of everything your vendors already have received for the holidays; and pull out the red crinkle ribbon. Choose a three-hour time slot during an evening you know most clients have free, and then send an e-mail blast announcing amazing limited-time bargains. Place announcements throughout the skin care facility and mail holiday cards to your top 100 clients announcing the sale.
A few hours before the event, lock the doors and get ready. Put a team member in charge of decorating the retail area for the holidays, and a few other employees to post sale signs and place product on tables and shelves. If you have done correct planning and your literature was designed to entice your clients, get ready to hear your cash register ring. Immediately after the event, take everything down and put it away until mid-November. After your first year, if the sale is spectacular, clients will be waiting for this annual event for years to come.
Want to make the event even bigger? Partner with a restaurant in the area and ask it to teach preparation of quick holiday hors d'oeuvres. The restaurant should be willing to provide the food and a chef at no charge in exchange for the opportunity of handing out their menus and coupons promoting their business. Make sure you highlight this activity in all of your promotional literature.
Create a holiday wish list
This is a fun idea that can net a huge spike in sales and many new clients for the skin care facility. Starting at the end of October, ask clients to fill out their holiday wish lists. (See Client Holiday Wish List.) Now is the time to start putting the wheels in motion for two amazing, profit-producing events in November and December. Call a major staff meeting during which you explain all of your plans, and then ask for volunteers to handle key components of decorating, advertising/e-mail blasts, set up and tear down. Delegate and make your staff accountable for their jobs, because your success is their success, and the following events should result in new clients.
Closed-door shopping night: men only. Pick a date for an evening event and e-mail all of the men mentioned in your clients' holiday wish lists. (See Example: Men Only E-mail Blast.) This can be an amazing, profitable event. What man would not show up if you told him you knew exactly what his significant other wanted for the holidays, and it's available for purchase, will be wrapped and, while he is waiting, he'll be fed pizza and beer?
Closed-door shopping night: everyone else. Friends, mothers, sisters, in-laws, children—a closed-door shopping night just for them with an added touch of holiday baking ideas. Again, tap into a restaurant or bakery for a free demo and food. It will be glad to provide the service in exchange for the opportunity of handing out their menus and coupons. This is the night when you want all staff on board to meet potential new clients. A great way to do this would be to create a game. All staff members should be wearing name tags. Hand out a holiday card at the door with the names of key staff members on each reindeer or snowman on the card. Ask that each shopper please fill out the back of the card with all of their contact information, including e-mail address. Now you have captured all of their contact data. Explain to your clients that they have to find each staff member who will validate their name on the front of the card. When they find everyone, they can bring the card back to the reception desk, and it will be entered to win certain prizes. Have team members prepared to describe their services and offer a special if the client books that evening. You can even offer new clients additional chances in the drawing for every service that they book. Make sales, book treatments, get new clients ... sounds like a fun night for everyone.
3. Closed-door community outreach event
Pick a worthy cause, then partner with that group to have its meeting at your spa. Part of the activity of the night could be to have professional demos on skin care, nail care or makeup treatments. That night, a portion of any services booked or any retail sales will be donated to the charitable organization. This is a great way for that group to raise money while their members enjoy a fun night. You might want to even contact the media if you feel your donations will be newsworthy.
Gift certificates
One last thing that you absolutely cannot forget about for added profits during the holidays are gift certificates. Great gift certificate sales in November and December can carry you through the slower months of January and February, as they are being redeemed, yet most spas do not put a lot of thought into this product category. First, find out how many certificates you sold during each of the past three or four years. Has the number increased? You should be targeting these sales to grow as much as possible every year. Next, take the number of certificates you sold last year and set a target of growth for this current holiday season. Now, set up a promotion for gift certificates that will run in every one of your event fliers and literature to motivate your clients to purchase the maximum amount. Following are some ideas to help increase your gift certificate sales.
Offer a free service with the purchase of a $100 gift certificate, and promote a service that you want to build up. For example: "Purchase a $100 gift certificate, and receive a free 20-minute mini facial."
Offer a gift with the purchase of a $100 gift certificate during the year. If you have earned any gift-with-purchases from suppliers that you have not used, bundle them and wrap them as a gift, pricing it at regular retail value. So for example, if you earned extra body lotions on a promotion worth $25, the special would be: "Purchase a $100 Gift Certificate and receive a $25 body lotion for free." Even if you purchased something on special, list the regular retail price as the value of the gift. The client will be impressed with the free gift, but your cost will be so much less to promote that certificate.
Think differently
Plan ahead, get creative, get aggressive and think differently than you have previously. Then get ready for a profitable, happy holiday season.
Aaron Sonnenschein began his career in the professional salon industry at 16, working at Hart Beauty Supply Company, which he later purchased with his wife Jamie. With a degree in management and marketing from Chicago's DePaul University, he capitalized on his entrepreneurial spirit by launching JAS International, an import and visual merchandising company. Later working for Mid City/Salon Centric, a division of L'Oréal USA, Sonnenschein is now district manager for Dermalogica.