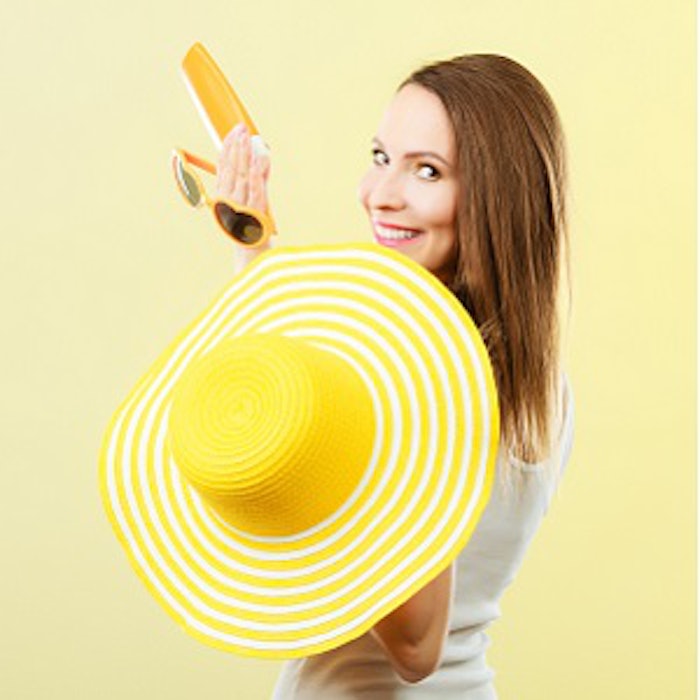 Clients go to great lengths to get their bodies ready for summer, and ensuring that your team members and skin care facility are embracing the summer atmosphere can increase retail sales and add new life to your service menu. Take the time to review the current menu in order to ensure that winter and spring treatments are removed. Skin care services should always reflect the current season and, during the summer, body treatments, manicures and pedicures should incorporate and highlight scrubs, oils and lotions that utilize scents, such as cucumber, coconut, citrus and melon essential oils. These aromas tend to generate increased happiness and energy, so make sure that you sell retail sizes of the products used in summertime treatments so clients can take home a little bit of that summertime feeling.
Sunless tanning. Offering sunless-tanning treatments in your spa is a great alternative for your clients, who should always be advised to stay away from sun-worshipping. Offering packages that include pre-tanning exfoliation treatments can help clients prepare for and look their best when on vacation or for an everyday summer glow. Train team members in advance to provide these services so they can perfect them before summer.
Sun-repair treatments. One of the hottest spa treatments this summer will involve sun repair. Consider offering late-summer facials and body treatments that are infused with ingredients such as pomegranate, green tea and vitamin C to promote repair. Ensure that you retail a facial and body care line that correlates with the repairing treatments that your clients can use at home.
Sunscreens. Your facility's team members should educate clients on the importance of sunscreen and how to properly apply it. Sunscreens can be applied in either a powder after a sunless-tanning treatment, or as a lotion or serum after facial treatments. There are lots of fun sunscreens available for skin care facilities to retail—look for organic lines with summertime scents to have on your reception desk.
Hair-repair treatments. Clients' hair takes a beating during the summer. Exposure to chlorine, salt water and the sun cause it to be dry and damaged, and the ends to break easily. It is simple to add hair-repair treatments to your spa menu. If your skin care professionals are using a Vichy shower room for body treatments, have them shampoo the client's hair, apply a deep conditioning treatment and leave it on for the duration of the body treatment. If you do not have a wet room, or if your team members are using a regular massage room for body treatments, instruct clients to shower and wash their hair before the treatment and have the technician massage a repairing mask into the hair during the treatment. Clients can then rinse it off in the shower after the service.
Beach-ready packages. Put together affordable packages that involve getting beach-ready. For example, waxing, sunless tanning and a repairing facial make the perfect package for clients headed out on vacation. The first two services can be used pre-vacation, and the second service can be used post-vacation, which automatically creates a second visit for the client, increasing the possibility of retention.
Summer-ize your spa. The treatment menu isn't the only part of your spa that needs summer-izing! Go through the retail area and make sure that you have items that are beach-ready. Focus on products with fun, bright colors, including sunglasses, swimwear, cover-ups, flip flops, sunscreens, lip glosses with SPF, and retail products that correlate directly to your new summertime menu.
Spa décor should match the feel of the season. Lighter fabrics should be used for draperies and décor, as well as in the retail area and changing areas. Decorations should incorporate shells, sand, flowers and other summertime objects. Staff uniforms should include lighter colors and fabrics, as well.
Giving your clients the feel, look and smell of summer throughout every area of the spa will invigorate them and encourage them to join your facility in embracing the season.
Kelly Richardson is the owner of Sonoma Tanning and is the designer of professional spa sunless tanning equipment and solutions called B.Bronz, which was recently featured in Bloomberg Businessweek. She can be reached at 707-546-6240 or at kelly@bebronze.com.