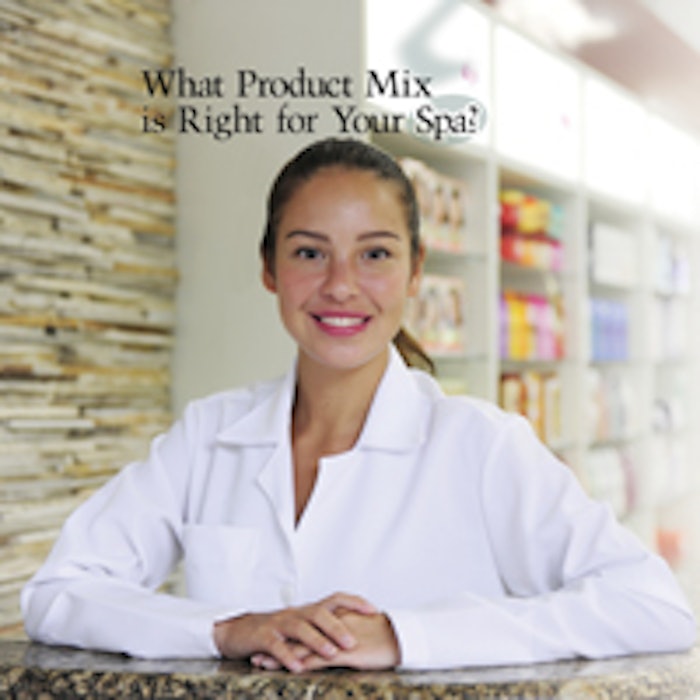 Private label, one brand or multiple lines … what's the answer? Every spa is unique and each client is equally individual. As a small business owner, studio esthetician or large spa chain manager, the following information can help you review the pros and cons of going "one brand, one vision," starting your own line or having a complete product mix.
One brand
Price
Retail prices can vary from product to product. Some companies offer a baker's dozen-type deal, so with every 12 products you purchase, you'll receive 13.
It's expensive to switch if you ever decide to change brands.
You may qualify for free shipping. Many lines offer free shipping with large volume orders.
Marketing support
Some suppliers offer a level system that provides spas with a variety of complementary marketing materials, ranging from DVDs and consumer brochures, to shopping bags and samples.
You may work with a dedicated sales representative. The larger the account, the larger the support. Small accounts will call orders into a customer service line while larger accounts will have a dedicated sales representative to assist them in business planning and marketing.
Education
John McGourty from John Francis Spa in San Francisco says, "By choosing to work with one particular supplier, I have more educational opportunities than if I had multiple lines. I feel as though we are working as a team."
If you want your sales representative to send an educator to your spa and train your team, you need to purchase product. The more you purchase, the more education the supplier will want to provide. Of course, starting off, you and your team will get trained on the line; however, to keep the suppliers coming back, you'll need to show them the money.
It's easier for consumers and therapists to know one line really well. Product knowledge is normally higher in spas that work with one brand than in those that work with multiple brands.
Perks
The main perk is national exposure. If the brand is national or international, you can benefit from its advertising and promotional campaigns.
If you commit to retailing a brand, many times, the supplier will add you to its website. Clients who recognize the brand will come to you to purchase product and hopefully stay and schedule a service.
Inventory is easier and takes less time.
You'll be invited to special events, education and promotional packages that only VIPs or exclusive clients can attend. Many of the lines in the spa industry are operated by the original owner; you may have a chance to meet with the owner directly.
Something to think about
When you commit to one brand, ask yourself: "What spas in my market are carrying this brand, and do they represent my business's point of view?"
Branded spas sometimes become known to the consumer as the "XYZ brand spa." That's great if the brand is well-marketed. Make sure that you are promoting your spa first, then the brand.
Who owns and represents this brand? Do they represent my spa and my vision? If you choose one brand, make sure it represents what you stand for as a company.
If you are working with a recognized brand, then you'll gain walk-in traffic. There are brands that clients already know and love. If you are using one of these brands, you'll earn clients before they have even received a treatment.
Multiple lines
Price
The price point you pay to the manufacturer will be determined by each product line according to your purchase volume.
Multiple lines will allow you to have a variety of price points for clients. You can offer mid-priced products for clients who are on a budget starting at $11–15, and a higher price point line starting $25–35. This will allow you to retail to multiple types of clients.
Marketing support
Usually, elite status with specific lines is not achievable when multiple lines are offered. The exception is when a large spa is able to move a large amount of retail and back bar product, which can prove to be difficult sometimes for studio estheticians.
A variety of marketing materials will be available with multiple lines; therefore, you'll need to find a way for the lines to look cohesive. Put time into branding your space and make sure that it doesn't end up looking like a beauty supply store.
Education
Product knowledge is more difficult, and the spa needs to dedicate equal time to all the lines.
Understand what lines can work together in the treatment room. Educating your team members on each product's manufacturer directions is important. For example, some peels can only be neutralized by specific cleansers from their line.
Perks
You have choices. Some product lines include a great aging and acne line, but don't have a sunscreen. By offering multiple lines, you'll be able to address all your clients' skin care needs.
All your eggs are not in one basket. If you decide to change lines or drop a line, you still have your other product lines, and the transition is easier.
Something to think about
You have a competitive edge with multiple brands. By using more than one line, the owner or spa director can use this to their advantage. If there is enough potential volume in the account, then sales representatives will work for the client in order to gain the full account.
Find out about minimum order requirements. If you love one brand's lip treatment and another brand's oily skin cleanser, will they let you carry both lines?
Research possible contraindications. Not all lines are made to work together. The effectiveness of each product might decrease depending on the other products you are using with it.
Make sure that, if you work with multiple lines, they all have a different target market. It's not cost-effective to have multiple lines that all do the same thing.
Ordering, inventory and product check-in takes longer with multiple lines.
Private label
Price
The cost of individual products is usually lower than a branded line.
In some cases, opening orders can require larger purchases. This can be expensive for a small spa to invest into an entire line, include the packaging, labels and other details.
You can control the markup; there isn't a suggested retail price. You are not competing with another spa that sells the same item. If you pay $10 for the cleanser and want to charge $50 and your clients will pay for it, you'll be making a significant profit.
Marketing support
You create it! You pay for it and there are very few restrictions.
Your brand will match your spa, your vision, your mission statement, the color on the walls … whatever you want.
"By having my own brand, I'm building my company. I'm in everyone's medicine cabinet every morning, and they are using my spa's brand. They are always thinking about us," says Shelley Constantini, CEO of Bella Pelle Skin Care in San Francisco.
Education
There may be some basic guidelines; however, you will be responsible for all treatment protocols.
If you are buying from a completed line—meaning you are not formulating it yourself—they may have online education that you can access. Of course it will not be specific to your brand, but you'll be able to gain product knowledge and train your team members.
Perks
For spa professionals who really want to be scientists working in a lab, this might be as close as you can get.
There is a market for the clients who want everything so unique and so special. This offers an opportunity for them to feel like they have something that no one else can get.
Retail can only be purchased from you, and clients have to come back to your spa or order it on your website to get it. You'll never have them walking into a mass market venue to buy the product that you recommended.
Something to think about
Know where the product is manufactured and be aware of the quality of the ingredients used in the formulation?
No one knows this new brand that you have labeled. Until the product is established, you will have zero brand recognition.
Are you responsible for packaging the product? Does it come pre-packaged? Who will label the product and what are the minimum orders available?
An informed decision
In this day and age, every business decision you make needs to be informed and highly researched. Your spa is unique and it is up to you to make the right choices to meet the needs of your clients. If you don't offer the types of products clients and consumers want, you will be building a huge obstacle for your spa to overcome in these challenging days for small businesses, so spend a lot of time weighing the pros and cons ... it could make or break your business.
Deedee Crossett is a licensed esthetician, founder of the San Francisco Institute of Esthetics and Cosmetology, and member of the California Board of Barbering and Cosmetology. With more than 15 years of sales and marketing experience, her mission is to inspire and develop future professionals that every spa will want to employ. Crossett is a member of the 2010–2011 Skin Inc. magazine editorial advisory board.