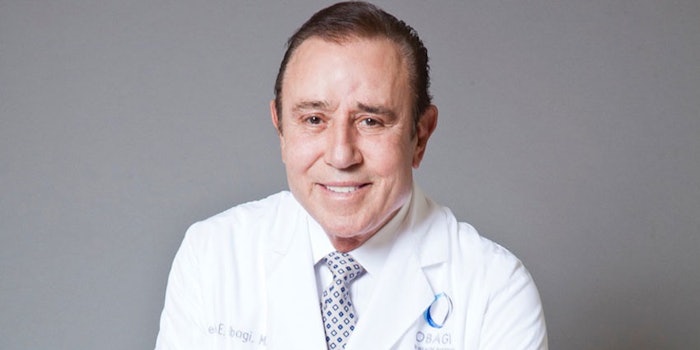 Editor's Note: This is the first article in a two-part series. Read more on Obagi's skin care philosophy in Part II.
Self-identification is key for Zein Obagi, M.D. A leader in medical esthetics, the Beverly Hills, California-based dermatologist is responsible for introducing innovative skin care through his practice and ZO Skin Health range of products.
In an exclusive two-part interview, Skin Inc. spoke with Obagi on his transformative work to redefine how skin is treated.
"Everything is based on cellular function."
One of Obagi's landmark contributions to the field is his definition of "skin health" as "skin that is naturally smooth, strong, firm, even-toned, hydrated and free of disease." He uses this definition in his practice to look beyond the surface to what skin should be since according to Obagi, all problems in the skin can be traced back to abnormally-functioning cells deep within the skin. This goes hand-in-hand with his Skin Classification System, which Obagi considers a key step in treating patients based on their skin type.
"The definition helped me at first to identify what was missing from every patient I see." —Zein Obagi, M.D.
"Having parameters to identify healthy skin helps me to really figure out what is altered in the skin. … It is more effective to bring back healthy textured skin or restore the skin health back. And we can do that in almost any patient by manipulating cellular function," said Obagi. "Skin, in general, is a living organ. As any living organ like the heart and muscle and the brain, everything is based on cellular function. The definition helped me at first to identify what was missing from every patient I see."
Obagi has passed his definition on to physicians and estheticians in more than 35 countries.
"Having the definition also helps to monitor the progress of the treatment more accurately. It will help you to expand the diagnosis, it will help you to monitor the treatment progress, and at the end, it will tell you how successful your treatment by restoring most of the parameter of healthy skin," added Obagi.
"Science and continued innovation are essential in our field."
Known for his science-based approach to esthetics and products, innovation plays a major role in Obagi's practice.
"Science is very important because it enables us to understand what is taking place in the skin. … These innovations are really important because they play a role in restoring the best appearance to the individual. … In the field of dermatology, most innovation comes as the thing you can see and apply right away. [For instance] safe fillers, creating parameters of how often to inject Botox to avoid resistance, when to do a peel and when to do something deeper than a peel, when to do surgery. All these are based off principles that keep changing to increase safety and efficacy of any procedure we do," said Obagi.
"We neglected the process of prevention for a long time."
Patients at Obagi's practices have their skin measured to discover the baseline parameters within his definition of skin health. Going a step further from some peers, Obagi uses a total approach to restore missing elements in patients' skin and educate them on how to maintain results.
"The thing that we are now adopting is prevention—this is the biggest thing that will happen in the coming 20 years. We neglected the process of prevention for a long time, we only had sunscreen to protect our skin from the sun. However, we are not addressing other issues. … These are also things that I stress in my education to the public and also to physicians," said Obagi.