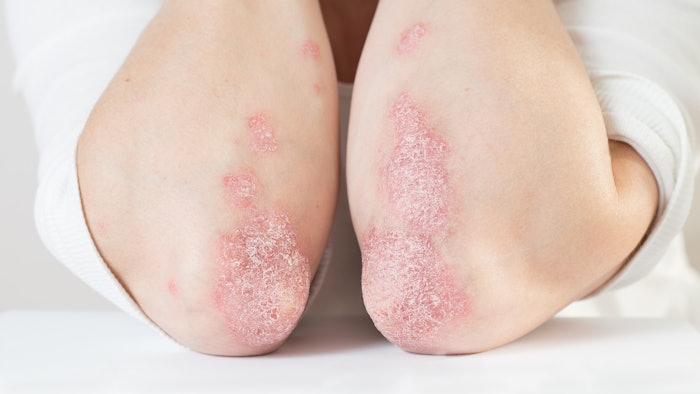 According to the National Psoriasis Foundation, more than 125 million people worldwide (2-3% of the population) have psoriasis and an estimated 30% with psoriasis also develop psoriatic arthritis. Nearly 40% of patients with psoriatic arthritis reported their disease to be a large problem in everyday life. Psoriasis reportedly has a greater impact on the quality of life in women and younger patients. With August being National Psoriasis Awareness Month, here is a breakdown of the recent advancements in psoriasis treatments.
Related: Kao Develops RNA Monitoring Technique for Diagnosis of Early-onset Atopic Dermatitis
There are five main types of psoriasis: guttate, pustular, plaque, inverse and erythrodermic. Plaque psoriasis is the most common in 80-90 percent of people living with psoriasis. Psoriasis plaques appear as raised, inflamed white scaly patches of dead skin. Plaques generally appear symmetrically on the body, affecting the same areas of the body on the right and left sides.
Scalp psoriasis is the second most common form, affecting between 45-56% of people living with psoriasis. This is most commonly visible around the hairline, forehead, the back of the neck and skin around the ears and will appear as white scaling looking similar to dandruff.
Multiple studies have shown that psoriasis is often linked to psychiatric comorbidities including depression, psychosocial distress, anxiety, alexithymia, sleep disorder, alcohol abuse, schizophrenia and suicidality.
Scientists and researchers do not know the cause of psoriasis; however, it is confirmed that genetics and the strength of the immune system are key contributors. It is possible to be diagnosed with psoriasis, even with no prior family history. However, psoriasis is not contagious and cannot be transferred from person to person. Certain events may trigger the ailment, including increased stress, skin abrasions, illnesses and strep infections.
With the cause of psoriasis still unclear, studies and treatments continue to evolve for patients of all severity levels, and some groundbreaking new treatments are reaching the clinical trial phase and expanding development, including Soligenix's SGX302 synthetic hypericin and The Janssen Pharmaceutical Companies of Johnson & Johnson's oral interleukin-23 receptor (IL-23R) antagonist peptide JNJ-2113. 
Related: SFA Therapeutics Receives FDA Clearance for Extension of Phase 1b Trial for Potentially Groundbreaking Psoriasis Treatment
Soligenix
Soligenix has announced the expansion of its Phase 2a trial of SGX302 (synthetic hypericin) for the treatment of mild-to-moderate psoriasis after demonstration of biological effect in the initial five subjects. The study is expected to enroll at least an additional five subjects, exploring the use of SGX302 in the standard-of-care psoriasis setting, prior to undertaking the larger phase of the study.
"We are pleased with the initial results from our Phase 2a trial," stated Christopher J. Schaber, Ph.D., president and chief executive officer of Soligenix. "The expansion of this psoriasis study continues our evaluation of synthetic hypericin into other disease indications, including non-orphan indications, where there remains an unmet medical need."
Evaluation of the initial five subjects enrolled demonstrated a clear biological signal, with the majority of patients recording an improvement in the PASI (psoriasis area and severity index) score. Enrolling additional patients will enable Soligenix to evaluate the use of SGX302 in the context of accelerated light treatment and additional adjunct treatment.
"Patients with mild-to-moderate disease do not qualify for the use of biologics and have fewer treatment options. The patients enrolled in this study all demonstrated clinical improvement and, with the experience gained in this first portion of the study, we anticipate being able to further improve responses as we move forward," stated Neal Bhatia, M.D., director of clinical dermatology at Therapeutics Clinical Research in San Diego and Chair of the Company's Psoriasis MAB.
Related: American Acne and Rosacea Society Develops Social Media Toolkit for Acne Awareness Month
Dr. Bhatia also participated in Phase 3 clinical trials of HyBryte (synthetic hypericin) in the treatment of cutaneous T-cell lymphoma (CTCL). After 6 weeks of treatment, hypericin PDT was more effective than placebo, and significant clinical responses were observed in both patch and plaque-type lesions and were similar regardless of age, sex, race, stage IA vs IB, time since diagnosis and number of prior therapies.
Dr. Bhatia said, "I have had a clinical interest in this novel therapy and am pleased that the Soligenix team is advancing synthetic hypericin in psoriasis where there remains an unmet medical need. Similar to CTCL, psoriasis is a chronic disease where the management of side effects and toxicities is as important as the management of the disease itself. Having treated psoriasis patients for over 20 years and seen first-hand how they struggle to find good treatment options, access to an additional effective and safe therapy would add significantly to patient care and quality of life for many people that are living with this disease."
The findings of these randomized clinical trials indicate that synthetic hypericin PDT is effective in early-stage patch and plaque MF/CTCL and has a favorable safety profile for similar chronic conditions like psoriasis.
"The success of HyBryte in targeting malignant T-cells during CTCL clinical trials is a promising indicator of the ability of SGX302 to provide a much-needed approach for the treatment of mild-to-moderate psoriasis, also caused by dysregulated T-cells," Dr. Schaber said. "We anticipate being in a position to report additional SGX302 study data before year-end, as well as the outcome of our ongoing discussions with the FDA regarding a feasible and executable trial design for a confirmatory Phase 3 study with HyBryte in the treatment of early-stage CTCL."
Janssen Pharmaceutical 
The Janssen Pharmaceutical Companies of Johnson & Johnson revealed positive topline results from its Phase 2b Frontier clinical trial evaluating the oral interleukin-23 receptor (IL-23R) antagonist peptide JNJ-2113 in adult patients with moderate-to-severe plaque psoriasis. The trial achieved all primary and secondary efficacy endpoints. A greater proportion of patients who received JNJ-2113 achieved PASI 75 compared to placebo after 16 weeks. The report indicates that the results for JNJ-2113 demonstrated a profile that supports its advancement into Phase 3 clinical development for moderate-to-severe plaque psoriasis in adult patients.
Related: DFD-29 Rosacea Treatment Nearly Doubles Efficacy in Ongoing Clinical Trial
JNJ-2113 is a novel oral IL-23R antagonist peptide that binds with high affinity to the IL-23R and has properties that allow it to be absorbed with oral dosing. The IL-23/IL-23R signaling pathway plays a critical role in the pathogenesis of immune-mediated inflammatory diseases, including PsO.4,5 JNJ-2113 selectively and potently blocks IL-23 signaling and downstream inflammatory cytokine production, according to the study. 
"Patients are looking for more flexible and convenient treatment options to manage the signs and symptoms of psoriasis, and these positive early results for JNJ-2113 are encouraging," said Robert Bissonnette, M.D., FRCPC, chief executive officer and medical director, Innovaderm, Montreal, Canada, and lead investigator of the Frontier clinical trial. "The majority of people living with moderate-to-severe plaque psoriasis are eligible for but are still not receiving advanced therapies. For many patients, a pill is preferable to an injection."
Results suggest the treatment was generally well tolerated and the proportions of patients with adverse events were comparable between patient groups. The proportion of participants experiencing one or more adverse events was 52.4% in the combined JNJ-2113 group and 51.2% in the placebo group. Although there was variability across the treatment groups, there was no evidence of a dose-dependent increase in the occurrence of specific adverse events across the JNJ-2113 treatment groups.
According to the report, the Frontier clinical trial results confirm the potential of JNJ-2113 across the spectrum of additional IL-23-mediated diseases, and as a next step, Janssen plans to advance JNJ-2113 into Phase 3 development for moderate-to-severe plaque PsO and initiate a Phase 2b clinical trial for adults living with ulcerative colitis.
"The development of a novel oral therapy that specifically targets IL-23R could potentially change the treatment paradigm for patients living with moderate-to-severe plaque psoriasis," said Lloyd Miller, M.D., Ph.D., vice president, Immunodermatology Disease Area Stronghold Leader, Janssen Research & Development. "Until now, advanced psoriasis treatments have been largely limited to injectable biologics. An oral therapy that can uniquely inhibit the IL-23 pathway by directly targeting the IL-23 receptor could help address the needs and preferences of patients, and may offer greater freedom, with the aim of driving greater adoption of advanced treatment."