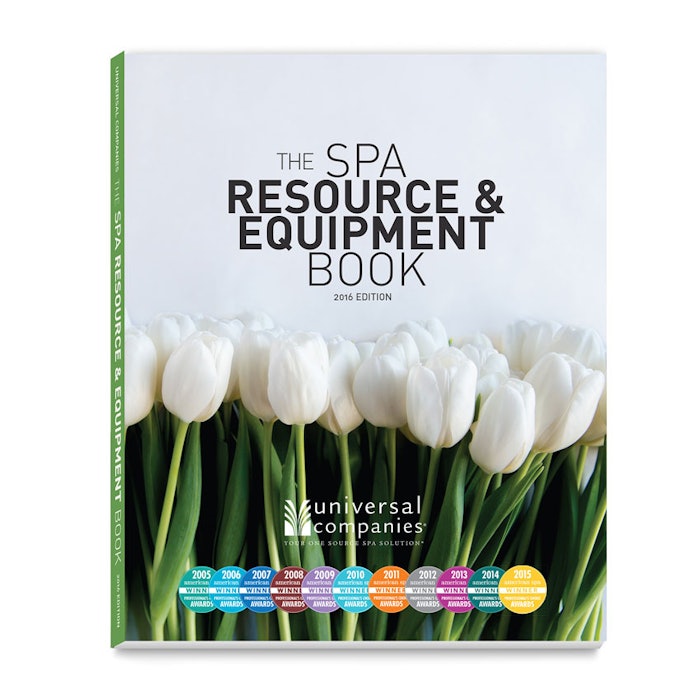 To bring updated insight on products and solutions, Universal Companies launched its annual catalog, Spa Resource & Equipment Book for 2016. The book is a comprehensive resource that is backed by expertise and support.

What's Inside
The 2016 edition of this catalog consists of the following categories.
Lash & Brow

Massage & Body

Mani & Pedi

Implements

Apparel & Linens

Spa Equipment & Furniture
Salon & Barber.
"We want to help our customers find everything they need to provide holistic treatments for their clients and care for themselves," added Brenda Elliott CEO, Universal Companies. "Our products, supplies, retail and equipment can not only help spas thrive, but they can also have a positive effect on individuals' physical, emotional and spiritual well-being."
Additionally, the book contains 1,450 new products—1,200 consisting of emerging retail items for spa boutiques—in-demand brands and most popular products.
"We are excited about helping enhance your retail capabilities and bring wellness products to your clients," explained Elliott. "From a carefully sourced and curated collection of products that will quickly become your best sellers to four levels of retail consultation with spa sales expert Tracie Wertz and retail marketing specialist Bill Barczy, we want to help you dramatically increase retail sales and profitability."
The book also includes an ad index in the front, in addition to checklists at the beginning of each section to build treatment rooms such as products and supplies to fill a massage treatment room.
Further Details
"Our customers are leaders in the wellness movement. As such, they have an opportunity to position spa treatments as investments in maintaining a healthy lifestyle," said Marti Morenings, founder, Universal Companies. "We can help spas create a sense of wellness by bringing everything they need to run their business together in one place."