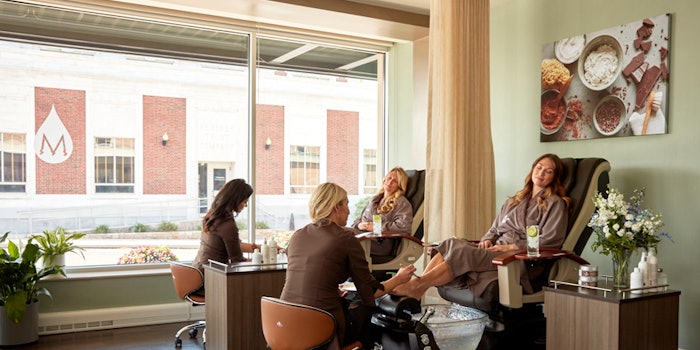 Hershey Entertainment & Resorts opened its newest brand, MeltSpa by Hershey, at 11 E. Chocolate Ave., Hershey, Penn.
MeltSpa by Hershey offers traditional spa treatments in addition to services to honor the country of Cuba, where Milton S. Hershey owned sugar mills and plantations from 1916 to 1946.
At 7,600 square feet, MeltSpa by Hershey is helping support the success of The Spa at the Hotel Hershey.
What to Expect at the Facility
The facility includes the following:
Nine treatment rooms for massage, facials, body treatments and waxing
Six manicure stations
Six pedicure stations
Three makeup stations
Four hair-styling stations
Relaxation lounge
Locker rooms with showers
Refreshments including coffee, tea, hot cocoa, fruit-infused water, trail mix, fresh fruit and bowls of Hershey's chocolates
Treatments and Offerings
MeltSpa by Hershey features Hershey's dark chocolate treatments including:
Hershey's Dark Chocolate Sugar Scrub
Hershey's Dark Chocolate Body Wrap
Hershey's Sweet Hands & Feet Dark Chocolate Treatment
Dark Chocolate Dipped Coconut Treatment
Dark Chocolate Dipped Strawberry Treatment
Dark Chocolate Immersion
Additional Services and Information
Other signature treatments and services include Hershey's Cocoa Massage and Hershey's Cocoa Facial. The spa also offers rose and Cuban collections, body treatments, waxing, spa packages and more.
At the ribbon cutting ceremony for MeltSpa by Hershey, team members cut a real chocolate ribbon to open the day spa. A menu of services can be found at www.meltspa.com.