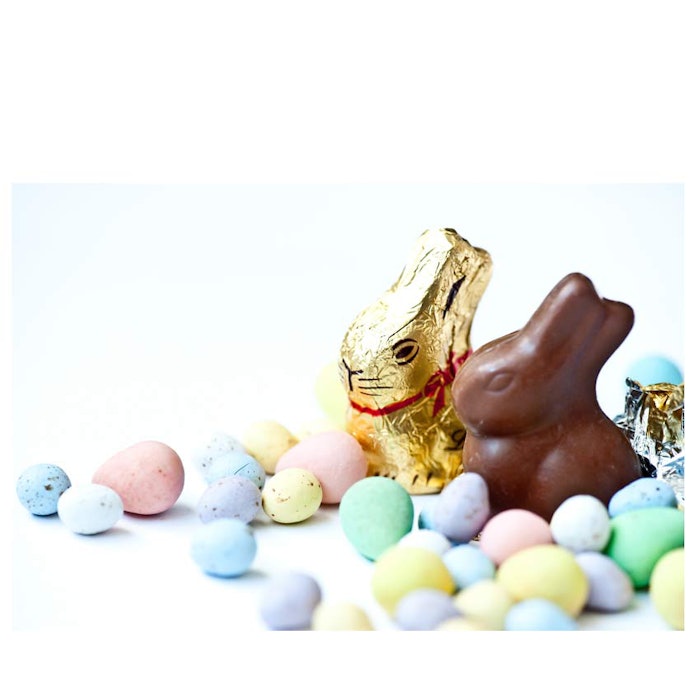 It's that time of year of chocolate bunnies, jelly beans and more. So, why not try adding some sweet novelty into your spa treatment menu this spring? Here's a sampling of spas that are offering candy, chocolate and sweet-inspired treatments, which can inspire you to create your own sugary spa offerings that are totally fat free.
This is one of the spa's signature chocolate services. They combine the gentle exfoliation of cocoa bean husks and walnut shells with a softening Cocoa Body Moisturizer for superb results.
Chocolate Fondue Wrap (60 min.)
This exclusive formula of warmed moor mud and essence of cocoa revitalizes and nourishes the skin as it relaxes the body. A luxurious body brushing is followed by the fondue application. The body is then wrapped in a soft warm blanket to enhance the total effect. A Vichy Shower rinse culminates the effect.
This facial experience contains active ingredients carefully selected from natural resources to maintain beneficial properties of the cacao fruit, used as an anti-oxidant, to combat the visual signs of aging.
Platinum Salon & Spa (Youngwood, Pennsylvania), founded by Candy Valentino
Peppermint Sea Twist (50 - 80 min.) 
This body treatment aims to slim and shape thanks to peppermint oil with freshly harvested seaweed to stimulate, rejuvenate and purify the skin. It improves circulation, making it an ideal treatment for sore, aching muscles or water retention. It helps contour and firm the body to improve the look of cellulite.
Ice Cream Body Treatment (50 min.)
This full body sugar scrub nourishes the body and stimulates circulation. Vitamins A, C and E, jojoba oil, and honey leaves the skin fully hydrated with a smooth glow. Completing the treatment is a moisturizing body icing full of vitamins.The flavor can be selected by the guest.
Chocolate Body Wrap
This aromatic body wrap is made up of white chocolate, mint and cocoa for a body treatment that leaves skin healthy and silky.
Chocolate Manicure/Pedicure
This treatment begins with a white chocolate and mint lotion followed by a refreshing chocolate mask. The sweet experience finishes with a soft massage using a white chocolate cream.
Glowing Mini Facial Mask and Mani-Pedis in CandyFlavors
This kids' spa treatment geared towards girls features a facial mask that comes in chocolate, bubble gum or cotton candy non-edible "flavor" options. For the more adventurous, the young client can choose to add a glitzy dash of glitter.
All of the spa's manicures and pedicures include yummy ice cream "flavored" hand and or foot soak, sugar scrub, marshmallow mask with warm towel wrap and yummy lotion icing. 
For adults who want a sweet treat, this nourishing and fortifying wrap helps with chronically dry skin. A warm blend of wine and honey provides intensive moisturizing to the skin and protects against dehydration.
Crushed Cabernet Scrub (with Honey and Brown Sugar)
On another sweet note, this treatment uses grapeseeds, honey and brown sugar to create a scrub that invigorates and refines to stimulate microcirculation and drainage of excess toxins. Caudalie's contouring concentrate and body lotion are then carefully applied to restore skin's radiance.
These are just a few options to try at your spa. Interested in more delectable spa treatments? Check out Yummy Spa Treatments: Chocolate, Pearls and More.