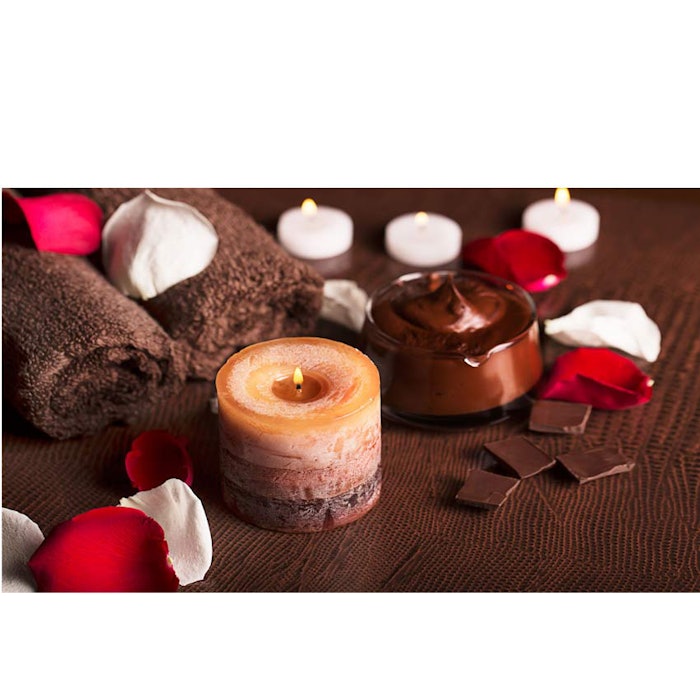 What could be more decadent than telling your clients to relax their feet in chocolate or get slathered in crushed freshwater pearls? Well, this year take some cues from these five yummy treatments featured in Spafinder Wellness, which are certainly out of the ordinary.
1. From Farm to Body at St. Regis Mexico City
In this two-hour body treatment, your skin therapist greets you with a shooter of sweet pea soup topped with shiitake and lemon zest. A few minutes later, lemon essential oil is used in an uplifting 60-minute massage. After the massage, enjoy bites of tuna sashimi marinated in ginger and watermelon topped with fresh goat cheese and olive oil, all washed down with a miniature glass of champagne. As you're dining, your skin therapist blends the scrub, masque and body butter with a few drops of essential oils and anti-inflammatory, anti-aging or hydrating boosters all from Salt of the Earth. A white ginger body scrub, watermelon body wrap and blueberry whipped body butter will leave your skin sumptuously soft with a lingering sweet and fruity scent. 
2. Of the Orient: Ginger Renewal at Chuan Spa at the Langham Chicago
A Turkish body scrub sets an invigorating tone for this 80-minute treatment. The Kerstin Florian ginger bath and body oil massaged over your entire body has a fresh scent that isn't too sharp and melts into the skin with the assistance of warm stones. A touch of acupressure on the scalp, forehead and ears harmonizes the meridians, leaving you with an even deeper sense of calm. Before your treatment, cleanse yourself of outside stress with Chuan Spa's signature bathing ritual, which includes herbal and Himalayan salt stone saunas, followed by an aromatherapy shower and steam room. After the ginger scrub and massage, prolong your relaxation time in the four senses dream room.
3. Chocolate-Covered Feet at Jade Mountain
The chocolate mint sugar scrub and cocoa butter masque used in this luxuriously hydrating pedicure are custom-made for Jade Mountain's spa with locally grown cacao by St Lucian-based Caribbean Blue Naturals. While the masque is soaking in, a thorough scalp and neck massage help you relax more deeply. Halfway through, a plate of dark chocolate hearts are brought over as a sweet surprise. These chocolates are made right on property at the chocolate lab with cacao grown at Emerald Farm. The spa even offers cacao beans fresh from the pod.
4. Biologique Recherche Seconde Peau at The Peninsula New York
This new regenerating facial from the French luxury skincare line debuted in December uses an electrospun machine that took 10 years of research to develop. The machine works like a 3D printer, weaving pure hyaluronic acid nonfibers into patches that plump and immediately tighten the face. After the facial, sip an aloe vera tea or coconut water as you drift off to sleep in private beds (even better than lounge chairs) nestled under a cocoon of blankets. 
5. Citrus Crushed Pearl Massage at George the Salon
Crushed freshwater pearls are blended with lime, mandarin, grapefruit and lemon oils, lotions and scrubs for a 90-minute full body treatment. There's only one treatment room here and the therapist addresses tired, dull skin with a lime blossom body scrub and applies hot towels and compressions to dilate the blood vessels and increase the absorption of the citrus essential oils used during the massage. The finishing touch is massaging luxurious crushed pearl body cream into the back, hands and feet. A scalp massage using essential oils is included.
This is an excerpt. To view the full report, visit: www.spafinder.com/blog/spa-travel/5-new-spa-treatments-try-year