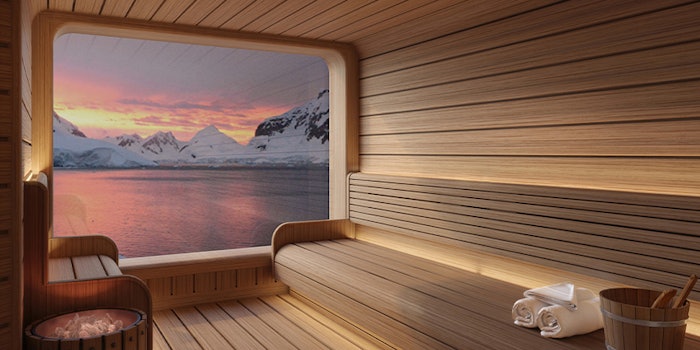 Seabourn, the luxury ocean travel experience, has released the details and imagery of the Spa & Wellness on the line's new expedition ships.
Occupying a space all its own on Deck 7, Spa & Wellness has been designed by Adam. D. Tihany. It offers services from skilled therapists such as massages for the face and body, as well as detox, cleansing and wrap services. The fitness center within the spa will be outfitted with a range of cardio and strength equipment, with a fitness director on hand to offer spot-on assessments and train guests in various fitness regimes. A full-service salon will also be part of the scene, with hair styling, facials, manicures and pedicures available for women and men.
It also offers opportunities for guests to enhance their expedition with physical, social, environmental and spiritual well-being through its on-board Mindful Living Program: Spa & Wellness with Dr. Andrew Weil. The program will comprise a holistic mind-and-body approach to well-being, offering complimentary yoga and guided meditation sessions, as well as illuminating seminars on topics ranging from integrative medicine to nutrition, pain management to creative aging and more.
Related: Scotland's Spa on Rails Launches 2021
The 3,700-square-foot space integrates the concept of a contemporary floating forest, with details including a textured tree-inspired art mural, light wood-and-bronze material palette, and live wood features to usher guests into the reception area. The branches of the floating forest spread like into four tranquil treatment rooms, each arrayed with neutral, textured wall coverings, light wood, and bronze accents.
Seabourn Venture is scheduled to launch in December 2021, with the second yet-to-be-named sister ship slated to launch in 2022. Seabourn Venture will sail on a series of 10- to 14-day Norwegian Winter voyages during her inaugural season between December 2021 and April 2022. 
Josh Leibowitz, president of Seabourn said, "Spa & Wellness is sure to be a standout space for our guests to embrace feelings of wellbeing in the midst of adventure on expeditions to the wonders of the world on our expedition ships. Over the past year, wellness has grown in importance in many people's personal lives, and our highly-trained staff will be devoted to providing a robust series of mind and body programs and rejuvenating treatments developed in collaboration with Dr. Weil to ensure travelers can relax, reconnect, and recharge during their time on board."