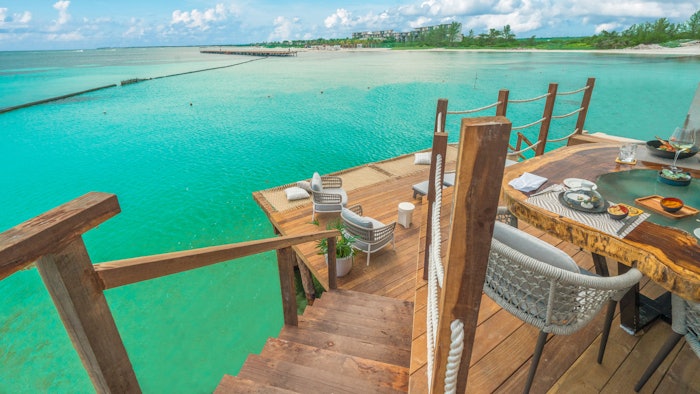 Photos courtesy of Palafitos Overwater Bungalows by El Dorado Maroma
Palafitos Overwater Bungalows at El Dorado Maroma by Karisma Hotels & Resorts has introduced a new holistic wellness program, Masters of Wellness. 
The wellness offerings have been curated with guests' mental, physical and spiritual well-being in mind. The health program is full of immersive, culturally rich and transformative experiences. Náay Spa's extensive menu of signature treatments and the wellness program offer a total wellness journey.
5 Wellness Offerings
Couples massage classes:

Guests can l

earn basic techniques that foster pleasure, relaxation and unity. 
Science-based nutritional counseling:

 Guests work with a certified nutritionist to develop personalized meal and overall wellness plans that promote better body functioning and reduce the risk of disease. It includes clinical body composition, physical activity, biochemical and nutritional evaluations. 

Yoga classes:

Guests can

 

connect the body, mind and breathing through poses, stretches and elasticity exercises, which improve mental, physical and spiritual health.

Meditation sessions:

Meditation allows guests to

 

practice self-control and regulate the body, so they are able to slip into deep relaxation, achieve mental and spiritual clarity and find inner peace.

SUP Yoga classes:

 The art of meditation by the sea, these sessions guide guests to help improve their breathing, flexibility, strength and coordination—all from a paddle board.