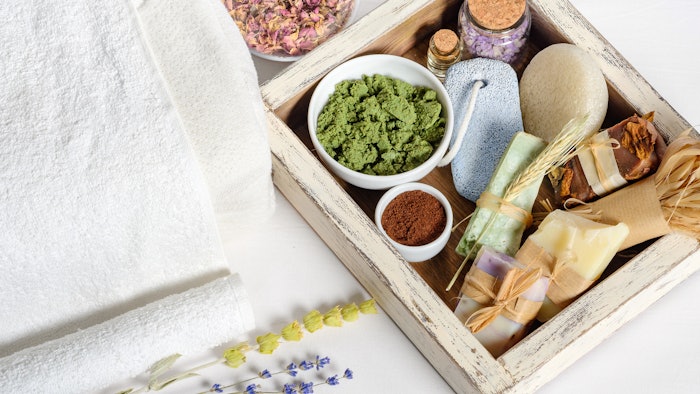 Skin Inc. Associate Managing Editor, Maggie Walker, shares what's on her mind this month.
This time of year becomes particularly hard for many people; the cold weather, ending of the holidays and cloudy skies makes for a gloomy time of year. This is exactly the time where I start to break out all of my mood boosting and aromatherapy tricks to keep these dreary feelings at bay. I have gathered some of my favorite ways to boost my mood and the products that help with that in the list below.
1. Vitamin D Lamps
Vitamin D lamps are a great way to bring back that source of vitamin D while the sun is hidden behind clouds. The Saltability Cube Crafted Salt Lamp is a perfect option for this, as it's made out of 100% pure Himalayan salt hand-mined in the Himalayan Mountains. The lamp gives a rosy glow, and the warmed salt releases negative ions into the air for natural air purifying benefits.
2. Bath Time
Taking a bath is a great way to relieve stress and enhance your mood. The KM Herbal Blue Chamomile Bath Salts is an excellent product that has a cooling blend of tansy and citrus essential oils to soothe muscle fatigue and calm the mind and spirit. The hydrotherapeutic bath salts help to relax, cleanse and refresh the body.
3. Candlelit Massages
Candle light always seems to add an ambiance to any event, but the errbshop's CBD-Infused Candles bring a whole new meaning to this concept. These candles melt into a massage oil that can be used during treatments to help ignite the mind, body and spirit. Perfect for boosting any bad mood.
https://errbshop.com
4. Vagus Nerve Care
The Vagus nerve activates the body's relaxation response and helps regulate stress. Osea's Vagus Nerve Oil is the perfect skin care product to help promote a sense of well-being by massaging the essential oil infused product along the vagus nerve, which calms and relaxes the body.
5. Gemstone Skin Care
Gemstone's being infused in skin care really popped off in 2021, and for good reason. Gemstone-infused skin care has a multitude of benefits for the skin, mind and body. Éminence Organic Skin Care's Camellia Glow Solid Face Oil uses pink tourmaline gemstones and marula oil to soften and deeply hydrate the skin to reveal a healthy glow.