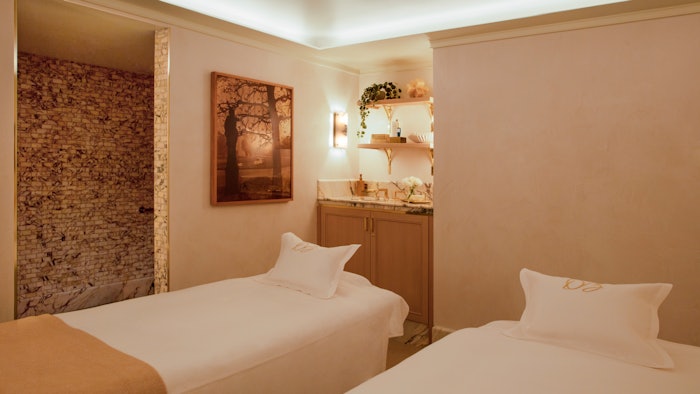 Photo courtesy of Spa Diane Barrière.
The Hotel Barrière Fouquet's New York is welcoming guests to its new neighborhood oasis, Spa Diane Barrière. The spa aims to redefine the Tribeca wellness scene with a hydrotherapy pool and treatments from Biologique Recherche.
The spa is named after Diane Barrière-Desseigne, president of Groupe Barrière until her passing in 2001. Upholding her values, Spa Diane Barrière provides an all-encompassing, luxurious wellness retreat for locals and guests.
"We see the spa as a place not only for guests, but for New York City locals who want a complete escape from the hustle and bustle of city life," says Gilles Stellardo, general manager of Hotel Barrière Fouquet's New York. "We are also proud to work with Biologique Recherche, which is a highly respected Paris-based beauty brand with a strong foundation in science and research."
Spa Diane Barrière showcases its Parisian inspiration through a palatial-like wellness retreat. The spa includes five treatment rooms (including one for couples), a sauna and steam room, and men's and women's changing rooms, all surrounding a hydrotherapy pool. 
Related: 3 Holistic Facial & Body Treatment Launches by The Ritz-Carlton, Grand Cayman
Treatment Menu Highlights