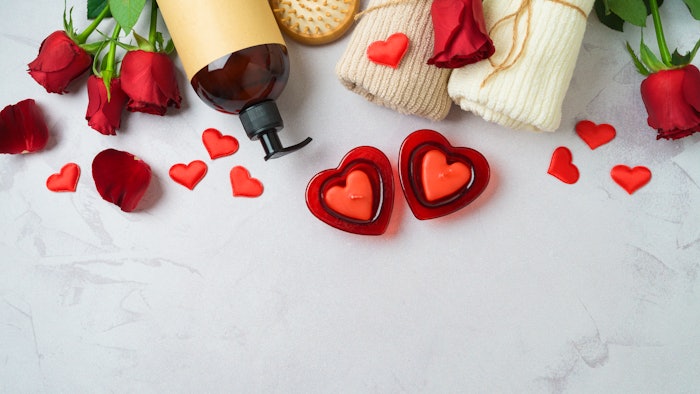 It's almost the most romantic holiday of the year, and love is in the air. Now is the ideal time to add a few Valentine's Day treatment offerings for couples to your treatment menu. Various Leaf Spa locations and Spa Lilliana at Hotel Effie Sandestin have service inspiration that provides pampering, romance and relaxation. 
1. Leaf Spa at Hotel AKA Brickell
Eternal Love Package
This Valentine's Day, Leaf Spa at AKA Brickell invites spa-goers to enjoy its Eternal Love Package, which includes an eight-hand couples massage, along with an Incan flowering bath, known for attracting destiny and positivity. Guests are invited to curate their own aromatherapy experience with florals, roots and plants to bathe in for the Incan ceremony with their significant others, while also being able to take a piece of this curation back home to continue the celebration. 
Related: 5 Valentine's Day Protocols Your Clients Will Love
2. Leaf Spa at Fairmont Chicago Millennium Park 
The Perfect Getaway for Two
Leaf Spa at Fairmont Chicago Millennium Park invites spa-goers to enjoy its V-Day specials such as The Perfect Getaway for Two. This treatment provides an exclusive couple's experience that includes an intimate soak bath, followed with an 80 minute full body massage infused with essential oils. Complimentary champagne will be provided and a take home gift.
Escape Together
This CBD infused massage is known to be the gold standard for deep relaxation for 50 minutes for two. The treatment is a holistic way to heal and treat the body and mind, and includes an upgrade of an exfoliating treatment that leaves the back smooth, soft and hydrated.
Renew Together
This rejuvenating and restoring full body treatment includes an exfoliating scrub, followed up with an 80-minute massage. The service incorporates a deeply soothing scalp massage to reduce tension, leaving couples relaxed and renewed.
Related: The Best Couples Spa Treatments for Valentine's Day
3. K'Alma Spa at Hotel Victor
Rose Infused Treatments
K'Alma Spa, located inside Hotel Victor, is the first spa in Miami to incorporate authentic Peruvian crystal healing therapies. This Valentine's Day, the spa invites guests to "stop and smell the roses" to radiate and embrace their highest frequency. Placing a heavy emphasis on the way vibrations impact our health, K'Alma Spa will be incorporating roses into each Valentine's Day treatment. Roses emit some of the highest known frequencies, which in turn raises vibrational frequency. For two and a half hours couples can enjoy a Rosé & rose-infused massage, a rose quartz facial mapping with infrared sauna, and a complimentary glass of Rosé and goodie bag.