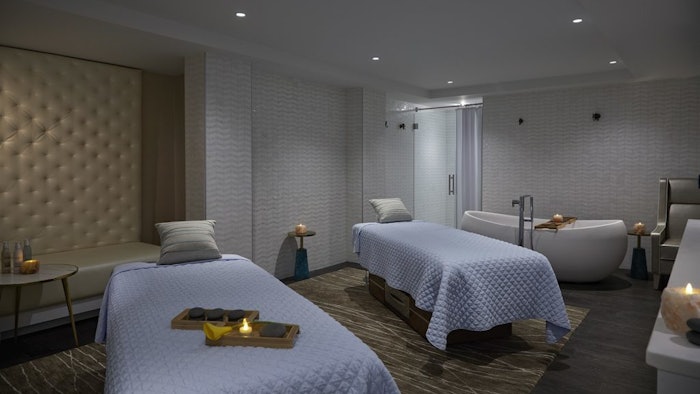 From Disney World to The Ritz-Carlton, this list from Orlando Date Night Guide details some of the best spa experiences for couples in Orlando, Fla.
Related: Best UK Spas to Explore on Mother's Day
Disney's Owned Spas at Walt Disney World
Disney World has signature spas at the Grand Floridian and Saratoga Springs locations. Each spa was formerly named Senses spa, but that name was removed upon its reopening in early 2022. The Grand Floridian Spa is reminiscent of a serene garden and The Spa at Saratoga Springs Resort depicts a wellness retreat in upstate New York. For a date day, both spas offer the Just the Two of Us package that includes a couples massage and a couple's pedicure.
The Spa Orlando
The Spa in College Park offers a variety of couple treatments including any offered massage or nail service. A signature treatment is the couple's cabana massage, offered for 60 minutes or 75 minutes.
Rock Spa at Hard Rock Hotel Daytona Beach
The Rock Spa at Hard Rock Hotel Daytona Beach combines a spa experience with a musical edge. The spa won the 2021 World Luxury Spa Award for Unique Spa Experience, according to the article. Its most popular couple's spa treatment is Your Body is a Wonderland, a 50-minute couple's massage with detoxifying mud, a private cascade shower and sparkling wine or detox tea.
Orlando Beer Spa
My Beer Spa offers one of the most original and relaxing spa experiences in Orlando. The spa invites couples to soak in tubs full of a blend of hops and antioxidants with unlimited self-serve craft beer and wine from the taps in the private treatment room. Each room also includes a sauna, private bathroom and relaxation area.
The Ritz-Carlton Orlando
The Ritz-Carlton Spa offers one of the most luxurious spa experiences on the list. For couples, the spa offers couples massages and a couples bath experience. The bath experience is in a private hydrotherapy tub and includes champagne and chocolate-covered strawberries. Booking a spa appointment also grants access to the outdoor spa pool,