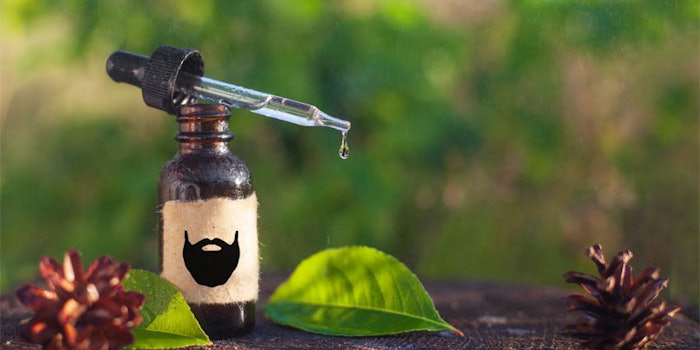 Beard oils are commonly used to promote hair growth and skin health. Although there is little evidence beard oils improve hair growth, skin care experts agree that oils with some vitamins can promote healthier hair and reduce hair loss. Other oils can help with skin conditions and inflammation. Dermatologists and skin care experts discussed the benefits of beard oils in an article from Healthline.
Related: 5 Trending Skin Care Ingredients for Men
According to Ife Rodney, M.D., a dermatologist, dermatopathologist, and the founding director of Eternal Dermatology, beard oils will rehydrate and nourish the beard and skin underneath. For more sensitive skin, beard oils can soothe the itching sensation that sometimes occurs when the beard is growing.
Rodney suggests beard oils with active ingredients like vitamin C, vitamin A, biotin and vitamin B12. Oils like grapeseed and hemp typically contain vitamins A, C and E. These ingredients are common in retail beard oils and can also be used in at-home recipes.
There is no peer-reviewed evidence that the active ingredients in beard oils can make hair grow faster. Rodney says beard hair growth is heavily influenced by genetics.
A 2019 review of vitamins and minerals to reduce hair loss suggested that vitamin C was crucial for patients with hair loss linked to an iron deficiency. Vitamin E might assist with hair loss from alopecia areata, but vitamin A's effects were too minimal to scientifically recommend, and it indicated an excess of vitamin A can contribute to hair loss.
Healthline noted that this research looked at supplementation and diet, not topical application of the vitamins.
There is also no consensus on the skin care benefits of beard oil, but Rodney suggests oils soften hair, which will prevent the hair from puncturing skin when it curls inward, which creates ingrown hairs.
Because of its ability to prevent in-grown hairs, Rodney says beard oils may have added benefits for Black skin and hair health. The curly nature of Black hair follicles presents increased ingrown hairs.
Some common essential oils in beard oils are tea tree, cedarwood, cypress, clove and lavender.
Rodney suggests jojoba oil is one of the best skin care options because it closely mimics the skin's natural sebum.
Research from 2018 on the anti-inflammatory and skin barrier repair effects of topically applied oils suggested that jojoba oil can be an effective acne treatment because it has a high amount of wax esters and anti-inflammatory effects.
The same study noted that coconut oil could aid in wound healing, collagen synthesis, and inflammation reduction following UVB exposure. Argan oil might improve skin elasticity and hydration.
While research suggests health benefits, the Food and Drug Administration (FDA) doesn't monitor or regulate the purity or quality of essential oils. It's recommended to discuss any potential essential oil use with a healthcare professional. It is also recommended to always use a carrier oil and do a patch test before trying a new essential oil.