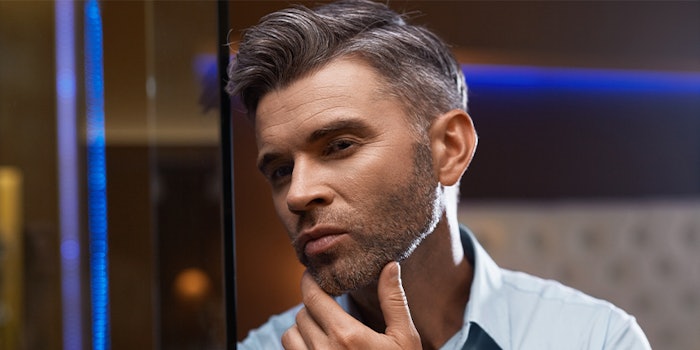 For men who are 50+, the AARP has recommended some key steps in keeping them looking great. This includes full body moisturization, keeping their hair groomed and getting into a skin care routine. 
Related: 2020 Men's Grooming Trends
Cleanse and Moisturize Daily
A simple two-step routine can make a huge difference in the appearance of the skin. It doens't have to be anything elaborate, but even a quick face cleanse in the shower will do.
Make sure men moisturize afterwards to help their skin feel its best. Look for a simple, fragrance-free moisturizer with ingredients like hyaluronic acid. 
Exfoliate Weekly
A scrub can be intimidating, but its a great way to remove any dead skin cells, which will help reveal healthier, smooth skin. Mature male skin is thicker than female skin, so recommend a weekly exfoliation.
An added bonus, exfoliation will lead to a better shave and glowing skin.
Use an Eye Treatment
Dark circles, discoloration and puffiness can lead to a tired or sick look. The cause can be anything from genetics to sleepless nights, too much screen time, salt or alcohol.
To help combat this, men should use a ring finger to tap a pea size amount of eye cream under their eye. They should incorporate this into their nightly routine for best results. 
Treat SPF as Essential
SPF should be worn everyday, even in the dead of winter. SPF protects skin from UV rays that can cause skin cancer and accellerated aging. Using a moisturizer that contains SPF will check two boxes off their skin care to-do list.
Remind them to apply to their neck, if exposed, and their hands as well.
Related: How to Protect Your Skin from Winter UV Rays
Moisturize All Over
Whether it is summer or winter, skin can become dry and itchy, causing irritation. So right after a shower, before drying off,  have them apply a body moisturizer. 
Related: Answering the Question: Why Moisturize?
Pamper The Pout
Don't forget, lips are part of that smile, so treat them with hydrating balms to help prevent lips from painful cracking and peeling. 
Take Charge of Facial Hair
After 50, their nose and earlobes continue to grow, which can mean excess hair sprouting from brows, ears and nostrils.
Make sure client schedule regular visits to keep up with this hair. They should also keep tweezers or eyebrow scissors on hand to tame those extra hairs.
Groom Hands and Feet
Hands and feet are often forgotten. Besides trimming their nails, keeping their hands and feet soft and moisturized is an important step. 
Along with this, and especially with COVID, staying hygienic is much needed. Cleaning out under the nails and making sure their feet are properly cared for should stay high on your to-do list.
Related: How to Combat Winter Dry Hands