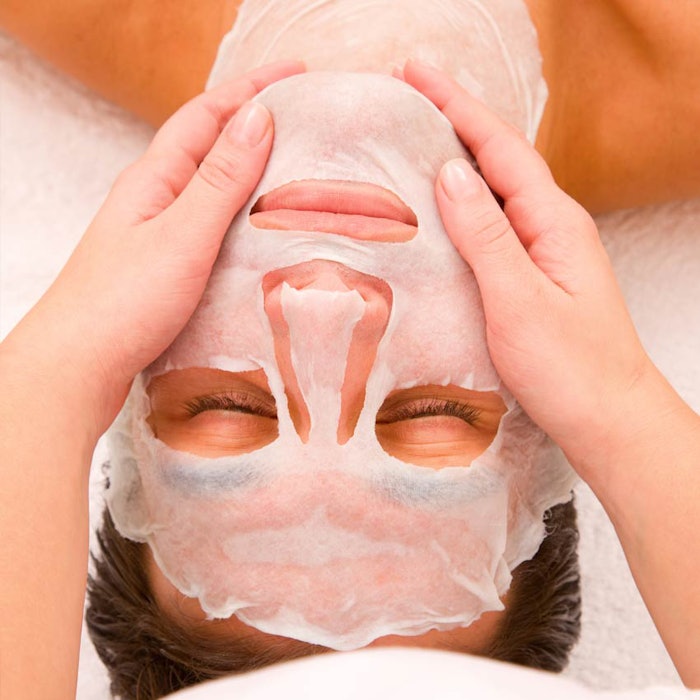 As a society, the concern for beauty and appearance is generally associated with women. However, men are also in search of ways to improve their image so they are happy with what they see in the mirror. Men want to feel and look younger and attractive, too—without sacrificing masculinity, of course.
Although the term "spa" traditionally may not shout "masculinity," it is a place where men are visiting to meet these objectives. Businesses need to leverage this interest and take the right steps to capture the alpha male by offering treatments that cater to their needs and lifestyle.
Lift-off masks
Right now, a big trend for men is the more scruff the merrier. Men are appreciating what nature has given them, but it's important to remind them about the skin beneath the beard. A great way to treat those who have embraced this the burly look is with lift-off masks. For example, seaweed lift-off masks will not get caught in the scruff, making it more comfortable for the client and easier for the esthetician to perform the process. At the same time, the masks deliver the benefits of hydration while eliminating an itchy feel.
Express sheet masks
The thought of spending more than 30 minutes at the spa may seem far-fetched to some men and may be the reason for hesitating to book a facial treatment at all. However, an express treatment can do the trick of reeling them in. A fast-acting, fuss-free treatment that is soothing for the skin is ideal. Sheet masks are great to use as stand-alone treatments for the man on-the-go, or in conjunction with other body treatments. Sheet masks including ingredients such as seaweed, organic orange water and aloe vera are especially soothing for men's faces post-shave.
Hand treatments and massage
For men whose jobs require physical activity and who have regular fitness routines—putting wear and tear on their hands and fingers—hand treatments are key. These should include all the benefits of a traditional manicure, including neatly trimmed nails and cuticles, a massage, detailed exfoliation and a hydrating hand cream. Monthly manicures will help to remove any calluses or dirt buildup. In addition, with the amount of physical activity their hands endure, an arm and hand massage can ease tension and strain. A non-greasy cream is recommended to provide a deep massage, followed by a hot towel or paraffin treatment. By combining these treatments, male clients will not only gain improved skin appearance, they also will feel relaxed after the service.
Anti-aging eye treatment
Another key area for men is the eyes. Men who work in office environments tend to develop crow's-feet and dark under-eye circles from squinting at computer screens and working long hours, so this treatment is perfect for a lunch break pick-me-up, or as an introductory treatment to other spa services. Offer a shiatsu massage to help relieve eye stress and pressure, and follow up with an alginate mask containing peptides to help diminish wrinkles.
Hair grooming services
Nothing kills a man's appearance more than bushy eyebrows, hairy ears or long nose hairs. It is important to offer waxing services to target these areas of concern. Introduce quick services to male clients that use hard wax to remove ear and nose hair, or creamy, soft wax to shape the eyebrows. It also is important to incorporate waxing services for hair in unwanted areas including the torso and back; even if they are sporting a beard, most men prefer to be smooth and hair-free in these areas. Coupling waxing services with facial treatments can also minimize his time at the spa.
Retailing
Most men need a little guidance when it comes to caring for their skin outside of the spa. Remember, men are typically logical thinkers, so they should be clearly informed of the benefits products provide.
Cleansing. As with any skin care regimen, men should, at the very least, be cleansing their face with a professional soap-free cleanser. Such cleansers can be used for a clean-shaven look, but they also are perfect for long beards since they are easy to rinse off the face. In relation, it is important to educate male clients who use bar soap in the shower that this will dry out their facial skin.
Exfoliating. For men who keep up with grooming, it is important to stress to them the importance of exfoliating and shedding dead skin cells—and how this helps to prevent ingrown hairs. Remind them it is best to use an exfoliant as part of their shower routine, to get a smooth shave.
Toning. Using a toner after shaving will help men prevent pimple outbreaks, and will help to rebalance the pH of their skin. Toners restore the skin to a state where it is neither too acidic nor too alkaline, helping the skin maintain optimal strength. A strengthened skin barrier in turn translates to better protection from the sun and environmental pollutants, more hydration, less sensitivity and an improved appearance.
Moisturizing. Many times men see sensitivity from shaving; for example, redness, irritation and bumps. For smooth skin post-shave, moisturizers including ingredients such as olive oil and olive leaf extracts, quinoa oil, seaweed and zinc help to reduce redness and irritation.
Men are in search of the ideal face and body. They are realizing there is nothing girly about taking care of themselves, as evidenced by the growing number of men engaged in cosmetic procedures and enjoying the advantages of treatments. By leveraging professional opinion and knowledge banks, estheticians can educate their male clients and offer treatments that cater to their needs to create an influx of men to their business.