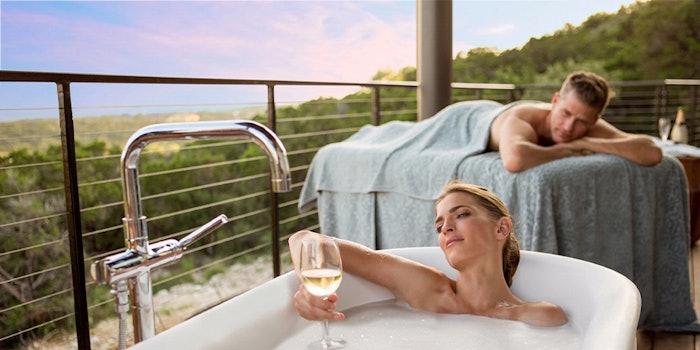 After the year that was 2020, people are looking for a break; somewhere to unwind and relax. Robb Report has curated a list of eight spas that can do just that with private in-room options and even full day spa buy-outs. 
1. Rush Creek Lodge
Rush Creek Lodge, located in Groveland, California brings Yosemite to the spa with waterfall coves, aromatherapy steam room and Himalayan salt sauna for a serene atmosphere.
The spa opened in November 2020 and is now open for massage treatments and private day use experiences. 
For a private experience, the spa offers Spa Private Group Day Use, a two and half hour exclusive use of its spa for up to 15 people for $1,200. The package offers optional add ons, such as massage treatments, skin care sessions and food and beverage options. 
2. Loma de Vida Spa & Wellness
Loma de Vida Spa & Wellness is a secluded sanctuary immersed in nature and situated on one of the highest points in San Antonio with views of the Texas sky.
The spa offers traditional massages, facials, manicures, pedicures and couples massages. It currently features a HydraFacial that cleanses, extracts and hydrates the skin.
For a private escape together, Loma offers a couples experience which includes a foot sugar scrub ritual with Love, an essential oil blend by Tara Spa Therapies, as well as a sequence of grounding, connecting, energy balancing and deeply relaxing strokes by a massage therapists. A Love gift set is included for more romance at home.
For a larger group, it offers a three hour buy-out option for up to 60 people, for $12,000 and $4,000 every hour after. The buy-out includes yoga classes in the fitness center, a group mindfulness/breathing session and one massage or facial per person.
3. VH Spa
VH Spa inside Hotel Valley Ho in Scottsdale, Arizona offers eight treatment rooms, saunas with chromotherapy, a spa deck and spa lounge for a real vacation feel. 
The spa offers four worldly inspired treatments that are available in the privacy of your own room, including: 
Reykjavik: Icelandic Moonflower Signature Treatment entails a full-body salt scrub, sixty minutes of customized massage and ends with a classic Icelandic tradition by spending time in the sauna. 

Istanbul: Hammam Experience includes a cleanse, exfoliate, mist and massage with aromatics from the East.

Honolulu: Lomi Lomi offers a distinguish Hawai'ian style of massage with wave-like strokes and a tropical aromatherpay. 


Helsinki: Nature offers a mist of cloud milk, white peat exfoliant and a wild-harvested Arctic berry wrap.
It also offers full-day buy-out with up to 20 guests for 12 hours. You can chose to start with a group sunrise yoga sessions on the rooftop, or end with a sunset one. The spa is exclusive, with private access to all the facilities, including the Peleton bike-equipped gym as well as up to 20 hours of spa services and wine and cocktails.
4. Four Season's Spa and Wellness 
The Spa and Welless at the Four Season Reort Lanai in Hawaii offers a secluded oceanfront island retreat. 
The spa offers a private couple's suite which includes oceanic body scrubs, signature Hawanawana massages and facials, and light, healthy plates topped with glasses of Champagne. 
For a more secluded option, the spa offers Pamper in Private Package which includes a full day takeover with two group yoga or wellness sessions in the gardens and up to 30 treatments can be included throughout the day. 
5. Spa & Salon The Del Coronado
Spa & Salon at The Del Coronado is a coastal San Diego sanctuary that taps into the healing power of the sea.
The spa offers an After Hours Package for six to 15 guests. For $250 per person, guests have full access to the hot tub, steam room, relaxation terrace, plunge pools and more. It also includes one select 50-minute treatment as well as light bites, champagne, parking and party favors.
6. Mayflower Inn & Spa
The Mayflower Inn & Spa located in Washington, Connecticut offers a country retreat nestled in 58 acres of landscaped gardens and woodlands.
The Mayflower offers an intimate After Hours at The Well package for single or double guests.
To start, start a private candlelit dinner is served at The Well dining table with a three-course menu, a bottle of champagne and handcrafted chocolates and sweets for dessert. Then explore the 20,000 square-foot Spa with a Milk, Lavender & Honey Treatment followed by a candlelit swim in the Pool House. For four hours, guests can enjoy the use of all the spa facilities. 
7. Carillon Miami Wellness Resort
Carillon Miami Wellness Resort in Miami, Florida offers a a nourishing journey for the body and soul. 
The spa offers completely touch-less treatments from a whole-body red light therapy to vibration and sound therapy. 
It also offers the 7 Dimensions of Wellness buy-out package: for $77,000, up to seven guests will have exclusive use of the 70,000-square-foot spa, which includes an hour of private training, the full circuit of touch-less wellness therapies (including time in a salt float bath and prism light pod), one 80-minute massage and 80-minute facial per person, a nutritional lunch served Oceanside, a "face fillers party" overseen by a leading plastic surgeon and a product-packed goody bag. 
8. 

Eau Palm Beach 
Eau Palm Beach Resort and Spa located in Manalapan, Florida is a seaside escape. 
It offers a flexible buy-out, allowing anywhere from two to 20 people and have quarter, half or full-day buy-out options. The package includes 20 one-hour treatments with access to the oversized Jacuzzi, thermal lounge chairs, sauna and outdoor garden with swinging chairs.
Eau Spa will donate 10% of the proceeds from all buyouts to a local community organization.