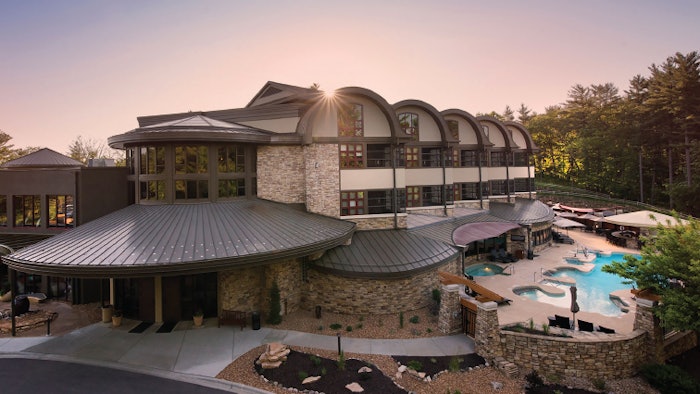 When it comes to mastering the art of relaxation, Sundara Spa in Lake Delton, WI, is an expert. Even though they are very well known for their numerous pools, both indoor and outdoor, they have made themselves a destination worth traveling to even in the dead of winter. The gorgeous scenery and stunning wildlife are only part of what makes this spa so breathtaking. Sundara does a beautiful job in providing wellness in a way that their clients can completely customize. Whether it's in the food they eat, yoga and wellness classes they attend or spa treatments they receive, Sundara has a plethora of opportunities for people to achieve prime relaxation. We sat down with Jessie Strickland, lead esthetician at Sundara Spa, to learn more about this magical destination.
Skin Inc. (SI): How did you get started in the industry?
Jessie Strickland (JS): I started my spa career as a receptionist at a spa while going to college. As a receptionist, I was able to take advantage of getting services for trainings, and I just fell in love with the industry in general. My path changed, and I decided to go to esthetic school.
SI: What is one of your favorite things about the spa industry?
JS: I love this industry so much because we are able to connect with and relax our guests. I truly love helping people with their skin care needs and educating them in a way that makes sense to them.
SI: What is your greatest achievement?
JS: My family is my greatest achievement. I am the proud mother of three beautiful children, and I work hard so that they can have everything they need for a bright future.
Related: Sundara Inn and Spa Tuition Program Aids in Reducing Massage Therapist Shortage
SI: What made you decide to bring Dr. Dennis Gross Skincare into your spa space?
JS: Sundara underwent a massive expansion in 2018. While in the process of expanding, we decided to bring in some new skin care lines. We took a lot of time to research and evaluate many different lines, Dr. Dennis Gross Skincare was the best fit for us. I love the quality of the products and how they feel on the skin. It is a medical grade product without the side effects of a traditional medical grade service.
SI: What is the most unique treatment Sundara offers?
JS: The most unique treatment we offer here at Sundara is our Lemi Vichy Treatments. It's an amazing experience where we perform a full body exfoliation, mask the body and pull a steam tent over the guest. While steaming, we perform a facial and scalp massage. We then rinse the body using a vichy shower and a hand held shower head, and follow with a full body hydration.
Continue reading our EXCUSIVE interview with Jessie Strickland in our October Digital Magazine...