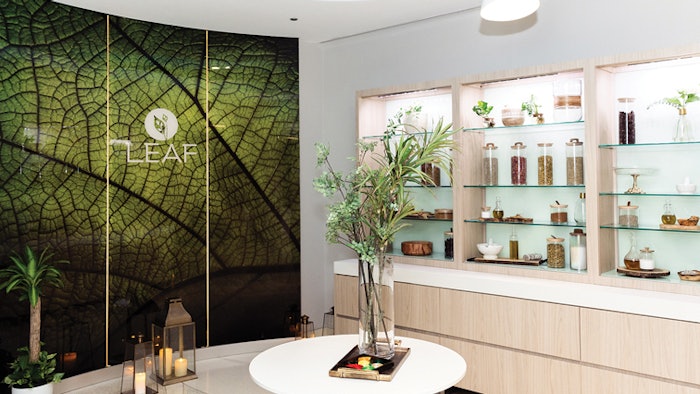 Leaf Spa's co-founder, Craig Carter, sat down with Skin Inc. to discuss designing a spa interior that connects clients to their own natural rhythm and provides a path to healing.
1. Tell us about the aesthetic of your spa's interior and the emotion you are looking to evoke from customers?
Our mission at Leaf Spa is to create a space in which our guests can reconnect with nature and their own natural rhythm; to help them find the season in which they experience the most joy. So, you will find elements of that woven throughout the experience. For example, we have a giant and beautiful willow tree that greets all visitors.
2. What inspired your design components and process?
Nature, nature and more nature. Our other brand, K'Alma, is all about finding your roots and grounding with Mother Earth. One fall day we were on a nature walk near our home and were in awe of the beautiful changing leaves and the cool air. That experience began the conversation that eventually led to the creation of Leaf. Ultimately, how does one stay connected to the seasonality of their life? We wanted to create a nature sanctuary in the city.
Related: Leaf Spa Brings Holistic Seasonal Offerings to Fairmont Chicago Millennium Park
3. What is the most important thing to remember when designing a successful spa space?
It's important to remember that it's not about us. It's important to understand that everyone is going to experience our spaces in different ways based on their personal perception and how they view themselves in the world. We are simply setting the stage for our guests to create their own journeys of healing.
4. Does your spa have any unique features or
design aspects?
Well, a giant willow tree in the middle of the lobby. We have an apothecary bar full of fauna, teas, dried herbs and roses at which our clients can make their own scrubs. My favorite is the house of knowledge walking meditation hall. It's lined with mesmerizing slow dance machines that really pull you into the moment. A highlight for couples treatments is our giant Kholer, waterfall infinity soaking tub.
5. What advice would you give to someone who is designing their spa's interior?
Don't get too attached to what you think it should be or mean to others. Always create from a place of joy, love and be clear on your intention. Then, make sure you can execute at the highest level to make it all come alive.
Continue reading Skin Inc.'s May Digital Magazine content...