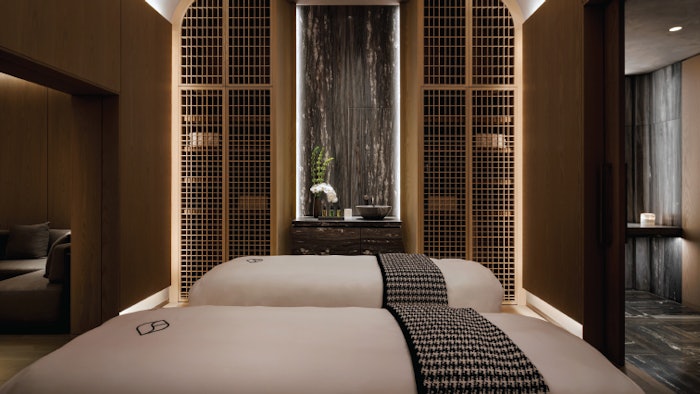 Photo courtesy of The Fairmont Spa Century Plaza
When it comes to a luxurious spa experience, the Fairmont Spa Century Plaza in Los Angeles, CA, has mastered this art. Designed with soft lighting, high ceilings, warm woods and sleek black accents, this 14,000 sq. ft. spa crafts a completely unique experience for all of its guests. Adorned with amenities like a Himalayan salt room, rainfall-style shower and aromatherapy steam room, it's hard not to feel at ease immediately upon entering this space. To dive deeper into the comprehensive spa menu that brings a modern approach to ancient practices and learn more about how the spa chooses to partner with brands like Ultraceuticals, Skin Inc. interviewed Alison Kirsten, director of spa and wellness at The Fairmont Spa Century Plaza.
Skin Inc. (SI): How did you get started in the industry?
Alison Kirsten (AK): I started after college working for Hyatt Hotels as a sales assistant. I really enjoyed working in hotels and meeting people from all over the world. I was always very active and was a competitive swimmer throughout my college years. I started working part time at a health club in Newport Beach, CA and fell in love with the industry. I worked my way up into several management roles and ran several clubs for The Sports Club/LA Brand in LA, Orange County and NYC. I was presented with a spa corporate role with that company in 2002 and oversaw that division for many years. I have worked with Four Seasons, Ritz-Carlton, the Peninsula Beverly Hills and most recently was the Spa Director at The Eau Palm Beach Resort and Spa.
Related: Getting Creative With Spa Color
SI: Why did The Spa at Fairmont decide to bring in the Ultraceuticals brand?
AK: We were looking for a line that provided a personalized approach to skin care that could treat a variety of skin care concerns, while also ensuring optimal and progressive skin results for our guests. Ultraceuticals not only has efficacious formulas, but also has ingredients that are obtained from sustainable resources and is free of parabens, which was very important to us. Lastly, Ultraceuticals works well with the technology used inside the treatment rooms at the Spa, which together, produce healthy, radiant skin for our guests.
SI: How does the spa at Fairmont train their staff?
AK: Training needs to be an on-going process. Our onboarding training is the most thorough, and is about two weeks, which includes a hotel orientation, our spa departmental standards and protocols, service and hospitality training, product knowledge and treatment training, retailing and mock runs.
Continue reading our exclusive interview with The Fairmont Spa in the April Digital Magazine...