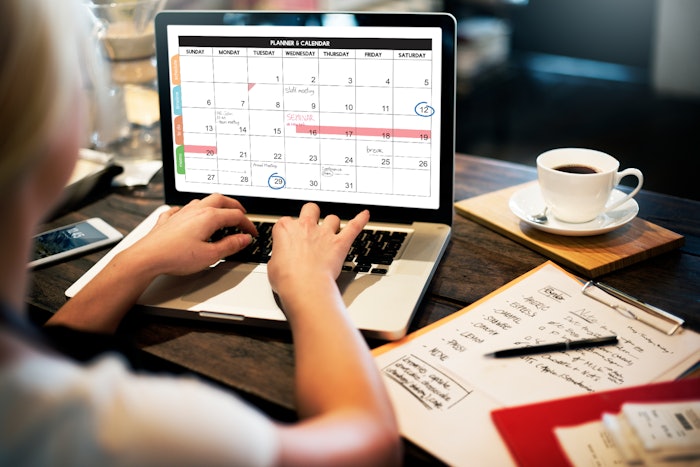 There are specific guidelines to follow when scheduling spa appointments to increase revenue, add to the success of the client's overall experience and save time. Whether booking appointments over the phone, via an online booking system, or in-person, the same guidelines apply.
Here are three categories to consider when booking a client for the most proficient outcome: client experience/best practice, revenue/sales and time segmentation. Let's explore how strategic scheduling within each category will have a positive and powerful impact on your business.
1. Client Experience and Best Practices
The most important aspect of any spa service is client comfort and experience. The way in which you schedule a guest's services can have an impact on their experience in a positive or a negative way. There is an order of operations for scheduling appointments for an enhanced client experience, basically a smart way to book clients. Have you ever brought a facial client into your facial room who just received a manicure, nails glossy wet? You help them change into a facial gown by unzipping their jeans or removing their shirt to avoid a destroyed manicure; awkward. Or when the client tries to daintily change into the facial gown without ruining their pedicure, but inevitably they mess it up anyway. They have to go back to the pedicure area to fix their nails or toes, and you are now running behind. Smarter scheduling saves time and frustration for everyone.
Like in the example just described, schedule a manicure or pedicure after a facial. Wet nails or toes make it nearly impossible to change into a facial gown and then slide under a sheet. Sheet marks are inevitable.
Related: How to Leverage Booking Apps to Boost Revenue
The same goes for waxing. If the client is scheduled for a basic manicure or pedicure, body waxing should be done first to protect a fresh pedicure or manicure. Unless it's a no-chip, which is a win-win. It is smarter to schedule waxing services before relaxing services. Always remember, waxing before relaxing. For example, a facial should be relaxing, not filled with anxiety about what lies ahead like a Brazilian wax. In the same vein, book a Brazilian wax before other services. Get it out of the way. The client will leave feeling renewed by ending with relaxation. Schedule waxing services before a massage for the same reason, but also because too much massage oil on the skin will make waxing nearly impossible. Schedule waxing and skin care services before injections, not after.
If your spa offers hair services, always schedule hair services after skin care or massage services. Have you ever had a client who just received the most picture-perfect blow out, only for you to ruin it with applying a headband to their head and then steam? Lash and brow tinting should be booked before waxing. Any residual eyebrow tint will be removed during the waxing process. Plus, the tint can sting a bit if applied after waxing.
If you are offering a lash lift, the guest cannot expose their lashes to heat, steam or water for 24-48 hours post service. A facial, which includes heat, steam and water, would need to be performed prior to the lash lift. Any way that you can make the client's experience seamless, going above and beyond their expectations by thinking through every detail of the scheduling process is a bonus for your business.
2. Revenue and Sales
Now let's talk money and scheduling. How do they correlate? First, if you are using an online scheduling system, enable a 'pop up' option to offer add-on services. For example, the offer might say "Would you like to add an eyebrow wax to your facial?" or "Would you like to add an underarm wax?" Choose a service most relative to your business and the service the client has scheduled. Adding a paraffin to a manicure is smart. Adding a lash lift to an eyebrow wax is smart. Adding an underarm wax to a Brazilian wax is really smart. You get the idea.
If clients schedule over the phone or in-person, the receptionist can offer the add-on service. Also, choose add-on services that you would like to promote and that take little time. It is smart to offer a service that doesn't require an extra time block. For example, a lip wax can be added to an eyebrow wax without adding more time. An eyebrow wax can be scheduled for 15 min. An eyebrow and lip wax can also be scheduled for 15 min., but you are maximizing your time with the latter.
Related: 3 Reasons to Offer Online Booking
When offering an add-on service to every client, some clients will decline, but others will say yes. If four clients a day opt in for a $25 service offer, that will tack on $24,000 extra revenue in one year. This is seriously maximizing your time with a current client, without the need to recruit a new client. Bringing new clients into your business is important, building on your existing clients is even smarter. Smart strategies make more money.
Also, offer packages or bundles such as a brow tint, lash tint or lash lift with an eyebrow wax. They will love it! And they will book it again.
3. Time Segmentation
Time. Once time has expired, we can't get it back. It's gone forever. I would love to go back in time to my booked solid Saturday when a set of besties cancelled their facial, microderm and waxing appointments. Ugh. Money lost, but lesson learned regarding what to do and what not to do. In the spa business, lost time is a lost opportunity and lost money.
There are two ways in which time affects appointments; time allotted for booking appointments and avoiding cancellations or no-shows of appointments.
When blocking out time for a client, it is very important not to leave open time slots between clients. Leaving time gaps between appointments is not a good practice. This can be set through scheduling software or done manually. For example, if you schedule an hour for a facial, book on the hour. It would not be smart to book on the quarter hour leaving open appointment times that can't be filled. Leaving a 15 min. gap between appointments, even once a day, equals 75 min. lost in one week. That is a massive 60 total hours lost in one year, which is equal to one and a half weeks of lost time. Will the 15 min. spot be filled in with waxing or another service? Maybe, but maybe not. Keep appointments booked back-to-back when possible.
It is also smart to combine services that can easily be done in one time slot versus two. For example, a brow and lip wax can easily be performed within one time slot, probably 15 min. Maybe an underarm and Brazilian waxing can be done within just the Brazilian time slot. Or maybe it's possible to add an eyebrow wax into a facial service. Not scheduling more time, not reducing a service, but maximizing your time.
Pre-booking appointments is also very important. This will help you gain control over the booking process versus the client choosing their own appointments, which they may book inaccurately online. With online booking systems you can customize and set rules for clients who schedule online, but mistakes can occur. Pre-booking the service cuts down on errors, keeps the client on their scheduled regimen and keeps your schedule booked smarter.
Related: 7 Tips for Enhanced Spa Success
The area we may feel the least control when it comes to smart scheduling is how to avoid no-shows and cancellations. There are times when situations are simply out of one's control and a client will cancel at the last minute or not show up for their appointment at all. Obviously, life happens. A one-time mishap is much easier to forgive than a repeat offender. A cancellation can happen for a multitude of reasons.
A no-show, however, is harder to excuse. Unless a person is in a dire circumstance, most people have a phone within their reach to call and cancel an appointment, if needed. If someone simply doesn't show, they either forget or they didn't value your time. Most people have appointment reminders on their phone.
Also, track cancellations and no shows. The goal is to lower the rate you are currently at. Having zero no-shows or cancellations is probably unrealistic. It happens. But, getting the number as low as possible is beneficial for your business. Identify repeat offenders and decide what is the best action for that client such as prepaying for the service time or implementing a walk-in only rule for that client versus scheduling out time knowing they may not show.
Smart Scheduling
In addition to booking appointments in a smart way, during the scheduling process, it is helpful to inform the client how to be prepared for their appointment such as what to wear or not to wear. For example, loose clothes for body waxing or a spray tan. Other tips include exfoliating before waxing, but not before a pedicure or to avoid certain products before waxing or skin care procedures. Even avoiding caffeine is ideal prior to most services. Any additional information on how the client should be prepared can be communicated through your online scheduling system or on your website.
Cali VanAelst, L.E. has been a licensed and practicing cosmetologist and esthetician since graduating from Pivot Point in 1989. She is currently the training director for Cirépil by Perron Rigot. She was selected by New City as the "Best Waxer in Chicago" and has been featured in both Allure and Chicago magazines as one of Chicago's best.