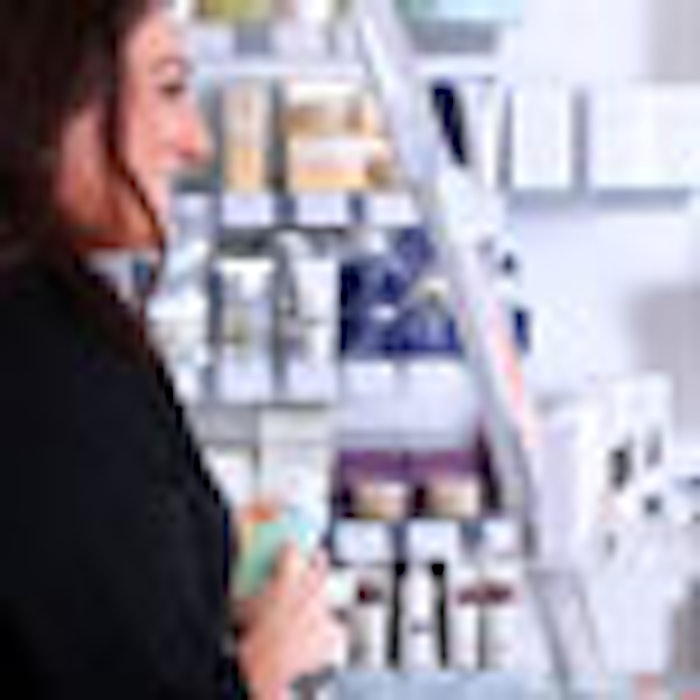 Typically, high commission structures and minimal retail sales limit profits, so upgrading services and improving retail sales is key. To increase revenue, encourage staff to upgrade services and require service providers to recommend home care solutions following each treatment. Give the team goals, and explain expectations thoroughly. Post daily results to allow management and service providers to track results. Following are tips to successful upgrading and retail profits.
1. Upgrading equals greater profits. Offer a wide range of professional and retail products in your product line to enable upgrading and customized home care regimens—in-demand polypeptides and high-performing ampoules are easy to recommend and make excellent upgrades. As you develop or reassess your menu, be sure that there is an opportunity to enhance each service offered. For example, if a client who schedules a basic facial learns after an evaluation/consultation with a skin care professional that there is a specific concern, such as redness, sensitivity or aging skin issues, a professional service alternative needs to be readily available for her.
2. Condition-driven … solution-minded. Home care recommendations and service upgrade training is mandatory. Although selling is often perceived as outside a skin care professional's comfort zone or area of expertise, in order to build a team of expert recommenders, offer consistent training to ensure ongoing success. Ask your product line rep to assist you. Service providers must understand that they are not "selling." Instead, they are recommending expert solutions to address specific conditions or concerns. The client relies on them to provide the appropriate treatment, as well as lasting results through a suitable and solution-minded home-care regimen.
3. Every team member makes a difference. Train reception and customer service specialists on all treatments. They should receive the skin care services on the menu to be able to inject their own enthusiasm when explaining the treatment experience. Also, train them in how to schedule additional services. For example, when a client calls to schedule a basic facial, the customer service specialist needs to ask if she would like to experience the spa's signature facial, explaining the steps and why this treatment is unique. Reception employees also should attempt to add a treatment to the requested service. For example, if the client requests a manicure, the team member should inquire whether a pedicure is desired, as well. Provide customer service specialists with special booking offers; for example, discount pricing for a specialty pedicure if booked with a manicure during the same visit.
4. Plan and communicate for success. As with any great plan, you must set clear goals and expectations. Create a plan of action, and share it with team members so they understand their individual responsibilities to the overall plan and their role in helping the business meet its goals. Show them daily results to encourage them to stay on track, remain motivated and meet established goals.
5. Reward for greater profits. An effective reward/loyalty program can directly increase profits and build loyalty. Bonuses and incentives may be connected to upgrades and retail sales to entice staff and clients. Request assistance from your product lines to build enticing
team/client reward programs.
Upgrading opportunities exist in all service areas, and all team members should assist in reaching business goals. Offer an in-demand product selection, maintain inventory levels, and provide effective training and support. Increasing revenue is everyone's responsibility, and ensures business growth, job security and enhanced success.

Maritza Rodriguez has worked directly in the capacity of image and marketing consultancy with some of the most renowned professional skin care brands on the market. She is currently the global vice president of marketing & communications for Pevonia International and its related brands.

Dawn MacLellan has been well-recognized in the spa industry for more than 20 years. She is currently vice president—U.S. direct sales, with Pevonia International. They both can be reached at 800-738-6642, or via e-mail at pevonia@pevonia.com.