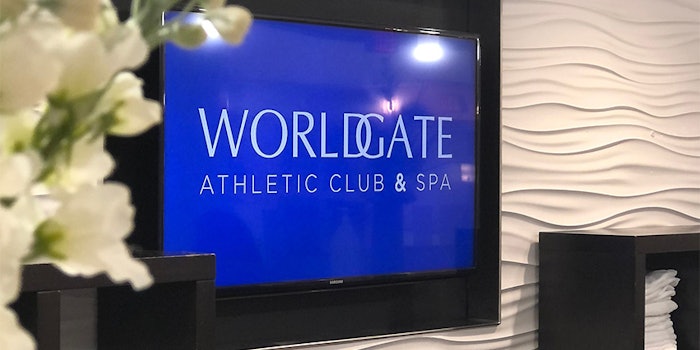 Worldgate Athletic Club & Spa, a fitness facility at Worldgate in Herndon, Virginia, has changed management companies, from Sport & Health to WTS International, according to Rappaport, which owns the Worldgate shopping center.
Related: Touchless Tech Is Taking Over the Spa Industry
Worldgate Athletic Club & Spa is a 110,000-square-foot facility, equipped with modern equipment, a large gymnasium with all new locker rooms, showers, steam rooms, private/family changing rooms, and complimentary towel service.
It will also be offering Worldgate Wellness Packages that take guests from training to recovery with updated spa services, signature fitness programs and nutritional coaching.
Worldgate Athletic Club & Spa will honor all current membership rates from the previous management for those who sign up. The membership benefits include access to virtual programming, training, and nutritional consultation, as well as 15% off all spa services. 
Gary D. Rappaport, CEO of Rappaport said, "We're excited to have WTS International oversee the management and operations for Worldgate Athletic Club & Spa. WTS International is known for its expertise in fitness management and award-winning spas, and we are confident in their plans to elevate the Worldgate Athletic Club & Spa as a luxury brand and create incredible value for members within the communities that we serve."
Chris Griebe, senior vice president, Fitness said, "WTS International is thrilled to bring elevated fitness to the new Worldgate Athletic Club & Spa. Our vast experience managing commercial and community fitness centers and world-class spa and lifestyle properties will bring a new emphasis on innovative services, digital experiences, and expanded wellness programs to members."