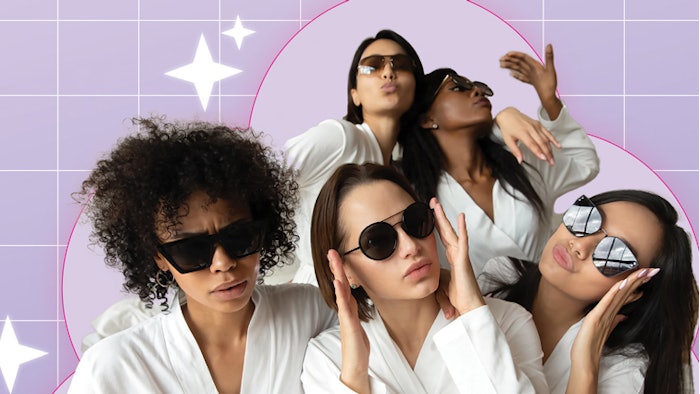 As skin care professionals, it's important to understand and have the knowledge to care for not only all skin types and conditions, but also all age groups. As a growing segment of the consumer population, Gen Z are often categorized as having a short attention span and being less than enthusiastic about working. Why should we pay attention to this age group?
According to Business Insider, Gen Zers are 40% of the global consumer population, with a spending power of more than $140 billion, and they are expected to make up more than 41 million of U.S. digital buyers by the end of 2022. So, when a few accounts and colleagues within the industry reached out to me for advice on how to specifically address Gen Z, I was inspired to share a few key takeaways and best practices that might be helpful.
Digital First
Did you know that the average Gen Z consumer spends approximately one to five hours a day on social media? A generation born from an uber digital age where within a few clicks, they have everything at their fingertips. The professional skin care industry and what we do every day is so intertwined with high touch and tactile experiences, but if we can find a way to merge the physical and digital experiences together, then you have found a way to truly and effectively connect with the Gen Z customer.
Creating and updating your social media channels like Instagram, TikTok and YouTube is a given, along with your owned digital platforms including website and email marketing. Taking this a step further, consider creating short form and long form skin care tutorials that are timely and relevant to your client. Perhaps, it's learning how to adapt your skin care routine at home for the winter season, or, properly control acne from the inside and out in between professional skin treatments. Creating compelling and visual content is another way to stay connected with your Gen Z clients.
Related: Gearing Up for GEN Z
Also, user generated content (UGC) created by other people who have frequented your spa is probably the most compelling content that will attract Gen Z clients. Watching reviews, especially in the form of videos, is the most powerful endorsement you could have for your business. Say yes to clients who want to capture content during their service treatment, and ask that they tag you and your business when they post. Once you are tagged, immediately share it across your own social media channels, so people can see you and your work in action.
Since we know this generation spends quite a bit of time on their phones pursuing their various social feeds, consider dabbling into paid advertising. Perhaps you start with boosting a few pieces of content, which can easily be done from your phone and does not require a huge investment to start. Then, you may want to gradually start creating social ads that are targeted for users who are within your geographic areas. Ensure your ads have compelling visual content that quickly answers these questions:
What is this service or product?
Why do I need it?
How will it benefit me?
When working with new customers, be sure to ask them how they heard of you, so you can learn firsthand which of your digital marketing strategies and tactics are resonating and attracting new customers.
Read more on attracting the Gen Z client in January's Digital Magazine...
Tracey Beeby is an acknowledged expert within the skin care industry. Having worked in the industry for more than 35 years, Beeby's professional experience extends from owning and running her own salons, to training doctors, business owners and skin technicians for the past 17 years. As Global Technical Training Manager for Ultraceuticals her focus is on raising the brands profile globally, and her work in advanced facial treatment development and clinical trials means that she knows how to achieve the very best results.