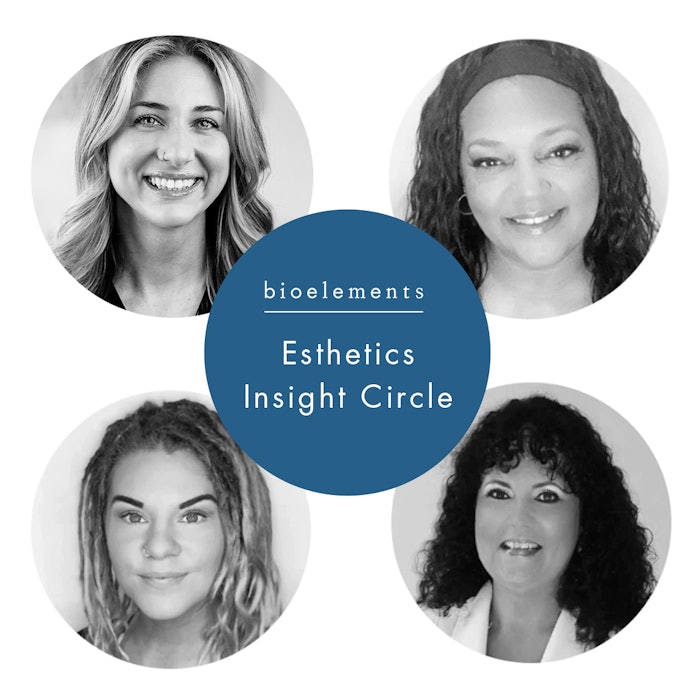 Photo Courtesy of Bioelements
Bioelements has announced the formation of the Esthetics Insight Circle - an esteemed panel of professional skin care experts from across the industry. The Bioelements Esthetics Insight Circle will help educate the professional skin care community and drive the conversation on the latest in skin care formulations, ingredient breakthroughs, treatment techniques and more.
The group is composed of licensed estheticians, spa owners, esthetics school leaders, esthetics entrepreneurs and skin care educators with a passion for Bioelements skin care and the professional skin care industry.
Related: How to Educate Clients About Physiological Signs, Causes and Solutions of Aging
"Bioelements dedication to the skin care professional truly drives everything we do as a brand," said Terry Schatz, COO of Bioelements. "And we're thrilled to enter 2024 with an impressive group of industry leaders with decades of combined expertise, wisdom and enthusiasm for this incredible industry. Currently, at 18 members, this circle will keep expanding as we know more will want a seat."
Esthetics Insight Circle members:
Barbara Arnoux, Bioelements Education + Success Manager
Carrie Cohen, owner + esthetician, The Swoon Spa, PA
Pamela Ann Ehrke, educator, David Pressley School of Cosmetology, MI
Terri Fouts, Owner + esthetician, Narcissus Salon and Spa, MD
Dawn Gantt, Bioelements Education + Success Manager
Sahira Gibson, cosmetologist, esthetician + educator, Rudae's School of Beauty Culture, IN
Deborah Jones, Bioelements Education + Success Manager
Melissa Kobus, owner, Gloss Salon and Day Spa, NE
Amanda Kowalski, owner + esthetician, The Petite Aesthetician, NJ
Melynda Loftis, esthetician, Fourteenth Avenue Salon and Day Spa, OR
Tiffany Lutz, medical esthetician, The Swoon Spa, PA
Monika Machej, esthetician, CIDESCO Diplomat, educator + president of New Age Spa Institute, IL
Sunni Reynolds, owner + esthetician, Skin by Sunni, MN
Brady Snider, president, PCI Academy, IA
Teresa Stenzel, Bioelements Education + Success Manager
Kris Vance, esthetician + instructor, Amelia Gray Skincare, OH
Rachel Woodland, lead esthetician + manager, Indulgences Day Spa, CO
MaLissa Young, president, Snips Spa Salons, MN