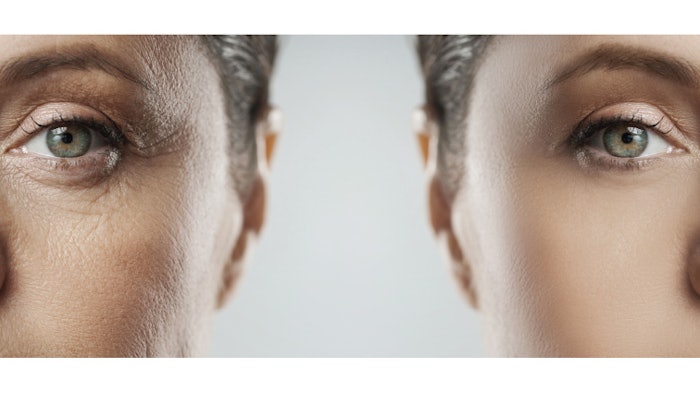 The most profitable estheticians have a secret to their success: client loyalty. Not just for a few years, but loyalty that lasts for decades. We call it "age coaching," which means an esthetician is confidently guiding their clients through every stage, from navigating dehydration at age 22 to loss of firmness at age 55. Age coaching educates clients on the right habits, products and treatments that help maintain great skin for a lifetime.
So how do you become an age coach? It starts with knowledge of how the skin ages. We know that skin aging breaks down into two classifications. Intrinsic aging refers to the chronological, genetic process that occurs naturally. In contrast, extrinsic aging refers to the external factors that age skin "from the outside."
Intrinsic & Extrinsic Aging
Let's dive first into intrinsic aging. One of the primary reasons we all age so differently is due to genetic factors. Just as genes from our parents determine our hair and eye color, they also determine how we age. Genes control several natural processes that cause skin to age, including the process of cell renewal, and the level of skin structure, support and elasticity provided by collagen and elastin fibers.
While clients don't have much control over their genetics, let's look at five extrinsic factors that affect the way the skin looks and behaves.
Related: Beauty, Aging and Facial Morphology
Stress. Stress has the power to cause major hormonal imbalances inside the body, which can affect the skin's barrier function, and reduce its ability to absorb and retain moisture.
Poor nutrition. A bad diet which lacks essential vitamins and minerals can cause serious problems in the skin. When there is a void of these nutrients, the cells of the skin do not have what they need to form properly, signal properly and overall function of the skin is diminished.
Environment and pollution. These are significant factors in how the skin ages. Elements such as harsh weather, air pollution and UV-rays can contribute to as much as 80-90% of visible skin aging.
Sleep. Skin health is controlled by the skin's circadian rhythms. At night, anti-inflammatory and anti-stress hormones are secreted (regulated by the 24 hour body clock), switching on the skin's repair, renewal and detoxification processes. Poor sleep results in significantly higher levels of transepidermal water loss (TEWL), a break down in the skin's barrier function, redness, increased definition of fine lines and wrinkles and dark circles.
Poor skin care habits. Some examples include abrasive exfoliants and formulas with unnecessary, irritating ingredients like fragrance and dyes; this can lead to skin injuries, and will break down the skin's protective structures over time.
Continue reading about age coaching your clients in our September Digital Magazine...
A member of the Bioelements esthetics team since 1993, Bioelements Education & Success Manager Teresa Stenzel has a key role in the integration and curriculum of new professional products, ingredient innovation and treatment techniques, ensuring skin care professionals receive the education they need for ultimate profitability. www.Bioelements.com/pros.