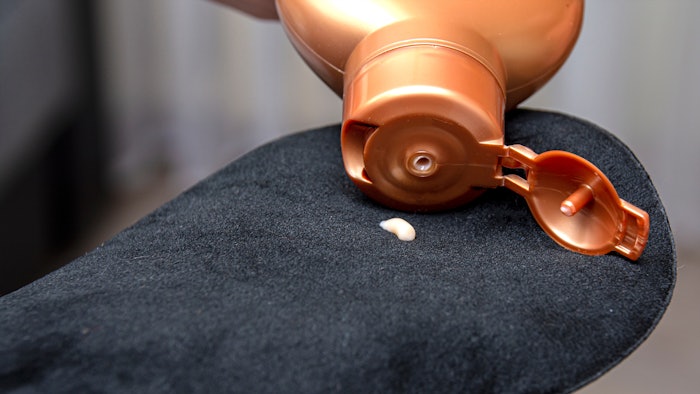 Gavial - stock.adobe.com
A market report from Fact.MR on the global sunless tanners market projects the market to reach $2.67 billion by 2023, growing at a 5.3% CAGR through the forecast period. The market is estimated at $1.59 billion in 2023. The growing awareness of prolonged sun exposure and alternate tanning options are a few key market drivers identified in the report. 
Related: The Ultimate Guide for Sunless Tanning Techniques & Equipment
The desire for a sun-kissed complexion is expected to create favorable opportunities for the market. To mitigate the risk of skin diseases, younger consumers increasingly prefer sunless tanning products like sprays, creams, masks, lotions and more. Worldwide demand for sunless tanning creams and lotions is predicted to increase at 5% CAGR and reach a market value of $1.11 billion by 2033 due to the increasing number of product offerings from various brands. Moreover, lotions and creams have a lower oil content in comparison to similar forms, which is expected to further enhance their widespread appeal.
Newly launched products from established skin care companies and the increased trade of personal care products across the world are boosting production volume, which is further contributing to market expansion. In recent years, the preference for organic and natural tanning products has grown, per the report.
The United States market reached $402 million in 2022, presenting noteworthy growth potential. In addition, the presence of several prominent key players is also helping the business to flourish. A noticeable share of the demand for sunless tanners is predicted to come from the growing number of beauty salons in the United States. Europe accounted for a 35.1% share of the global market in 2022 due to the presence of a well-established cosmetics and personal care industry in the region. Sales of sunless tanners in China are projected to rise at a CAGR of 7.7% and reach $131 million by the end of 2033.