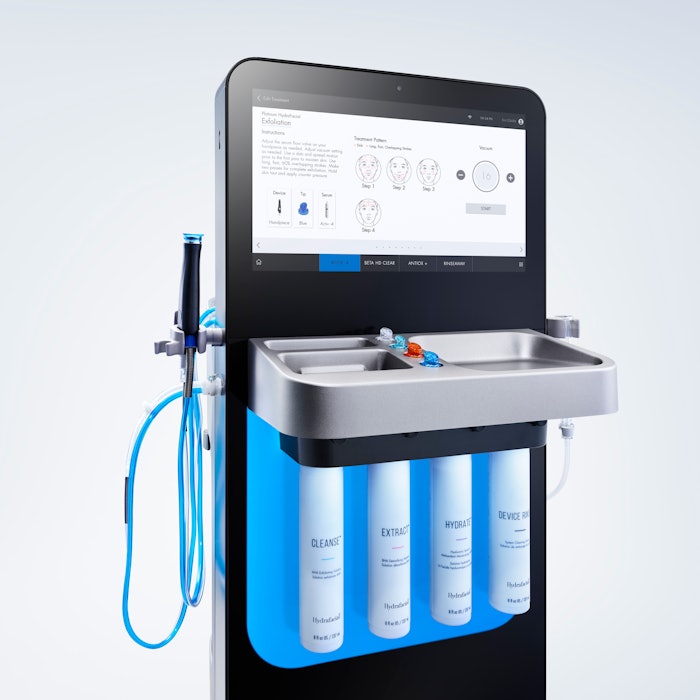 Photo Courtesy of BeautyHealth
BeautyHealth has announced a new milestone for the Hydrafacial with the placement of its 30,000th Hydrafacial delivery system, serving as a new landmark for the Company's expanding global omnichannel footprint.
Related: Hotel Matilda Adds Hydrafacial Treatment to Spa Menu
BeautyHealth's omnichannel allows consumers in more than 90 countries to conveniently experience a Hydrafacial treatment wherever they choose across medical aesthetics practices, as well as spa, retail and hospitality locations. Last year, providers delivered millions of Hydrafacial treatments worldwide. In a study from IPSOS, aided brand awareness for Hydrafacial reached 41% amongst U.S. consumers in the aesthetics category, the third most recognized treatment brand behind Botox and Juvéderm.
Through a patented vortex fusion technology and wand, each Hydrafacial treatment cleanses, extracts and hydrates the skin—allowing active ingredients to penetrate deeper for the most effective treatment possible. A final booster, personalized to each client's skin concerns, nourishes the skin and imparts a lasting glow.
The milestone follows the global launch of Hydrafacial Syndeo, which offers a more personalized and seamless experience in the treatment room for clients and providers.
"Providers tell us again and again that Hydrafacial is the treatment clients ask for by name. Placing our 30,000th Hydrafacial device is a symbol of deep love and trust from both providers and consumers in our brand and our ability to deliver the very best in skin health," said BeautyHealth President and CEO Andrew Stanleick. "With a global delivery system footprint that is unmatched in the industry, BeautyHealth aims to become the world's leading beauty health and wellness platform."