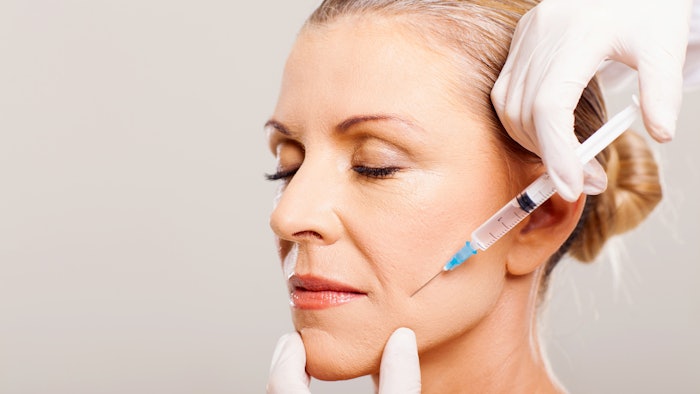 The global skin booster market is projected to be worth $2.3 billion by 2030, growing at a CAGR of 10.5%, according to market research published by Prescient & Strategic Intelligence. The increasing concerns about looks and wellbeing of the skin, growing per capita income and social acceptance of plastic surgery are a few key factors identified in the report. The growing market has also increased interest in skin-boosting injectables and procedures, including mesotherapy and profhilo injections.
Related: SKINVIVE by JUVÉDERM Receives U.S. FDA Approval to Treat Uneven Skin Texture
In 2022, the female category dominated the skin-boosting market, and the report projects the trend to continue its dominance throughout the forecast period. According to P&S Intelligence, more than 90% of aesthetic procedures throughout the world are performed on women.
North America had the largest market share, approximately 40% in 2022. The average disposable income in the United States is higher than in most countries, and skin issues impact more than 50 million people every year in the United States, according to the report.
Mesotherapy remains a popular method for boosting skin health, as well as microneedling, fillers and Botox and other aesthetic procedures. Profhilo, an emerging alternative to Botox, is currently only available in the United States under the label SKINVIVE by JUVÉDERM, which is part of Allergan Aesthetics.
Related: TikTok Trend: Why Masseter Botox is Trending
Mesotherapy
Mesotherapy involves the injection of skin-boosting agents into the mesoderm, which can lead to fat reduction and skin tightening. Some commonly used ingredients include plant extracts, vitamins, amino acids, minerals, hyaluronic acid, hormones, enzymes or medications that resolve contributing causes of cellulite and skin dimpling. The process utilizes thin needles to administer a range of fluids to advance blood circulation and cure skin damage that results from inflammation. It is used to reduce cellulite, fade wrinkles and lines, tighten loose skin, recontour the body, lighten pigmented skin and treat alopecia, according to Healthline.
Mesotherapy is considered an effective substitute for more expensive aesthetic procedures and can offer unique benefits due to the variable combination of skin-boosting ingredients that can be used. There shouldn't be any downtime after mesotherapy—most people return to their regular activities right away—and side effects are typically mild. Because there's no standard ingredient mixture or method, there's variability as to when results will begin to appear, according to RealSelf.
Compared to microneedling, mesotherapy only uses one needle, which leads to a deeper injection of the curative agents into the skin. Microneedling uses numerous needles that are utilized to pierce the skin, so the agents reach negligible depths inside the dermis and wounds need to be formed to repair and rejuvenate the skin, per the report.
SKINVIVE (Profhilo)
Profhilo has also emerged as an alternative to Botox. The injectable high concentration of hyaluronic acid has a unique molecular composition that helps it spread under the skin and form hydrating layers as well as stimulate cell production, including collagen and elastin.
Using extremely small needles in predetermined locations, profhilo is injected just beneath the skin. It is comparatively painless, and prior to treatment, topical painkillers are rarely used. The actual treatment takes a little over ten minutes. To achieve the best results on the face, only five injection places are required on each side. It is typically used to treat skin laxity and help remodel aging, sagging and crepey skin. 
Allergan Aesthetics' SKINVIVE by JUVÉDERM (the only hyaluronic acid intradermal microdroplet injections currently available in the United States) received FDA approval to improve skin smoothness with results lasting through six months with optimal treatment. The smooth, injectable hyaluronic acid gel contains a small amount of local anesthetic (lidocaine) that is absorbed into the skin and approved for all Fitzpatrick Skin Types I-VI, lightest to darkest.
More: SKINVIVE (Profhilo) Skin Boosters Emerge as Alternative to Dermal Fillers