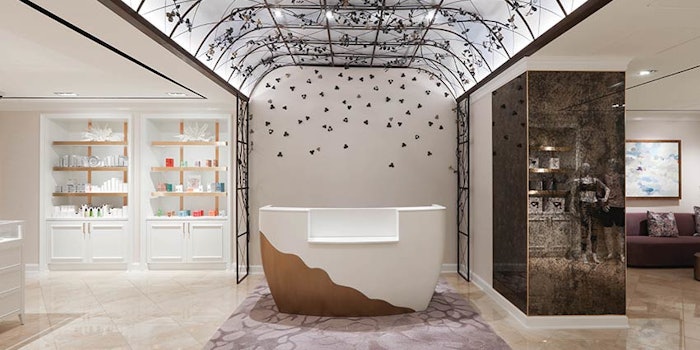 The Ritz-Carlton Spa, Texas
The Ritz-Carlton Spa's spa director, Scott Studstill, sat down with Skin Inc. to discuss designing a spa interior that feels like an urban escape in a bustling city.
1. Tell us about the aesthetic of your spa's interior and the emotion you are looking to evoke from customers?
This project is inspired entirely by nature, more specifically, by the manicured urban parks woven through downtown Dallas, such as The Arboretum, the sculpture garden at the Nasher and the winding, tree-lined ribbon of Turtle Creek. The interior exudes tranquility and comfortability as guests step into a space that feels like an indulgent escape from the busy city.
2. What inspired your design components and process?
Each design element was carefully selected to mirror a distinctive aspect of nature. Each treatment room, locker room and amenity features natural details such as tree branches serving as door handles and crystal and ginkgo light fixtures. Furthermore, the lighting is domed to resemble natural sunlight, and the color scheme nods to the radiant lilac and orchid blooms nearby.
3. What is the most important thing to remember when designing a successful spa space?
When designing a successful spa, it is important to curate a space that exceeds expectations. Our aim is to create a guest experience with a sense of place and individuality through attention to design, detail and service.
4. Does your spa have any unique features or design aspects?
The Spa at The Ritz-Carlton offers many unique design features; however, a must-mention is the amazing hand forged trellis at the spa entry. Each piece of this sculpture was carefully crafted by Larry Whiteley, and his impressive detail-oriented work sets the perfect ambiance of elegance and luxury as guests enter the spa beneath it.
5. What advice would you give to someone who is designing their spa's interior?
We encourage establishing a clear vision amongst the team prior to beginning the project. It is also important to tap into a professional, well-known knowledge base, which is why we were so fortunate to work alongside the ForrestPerkins design team.