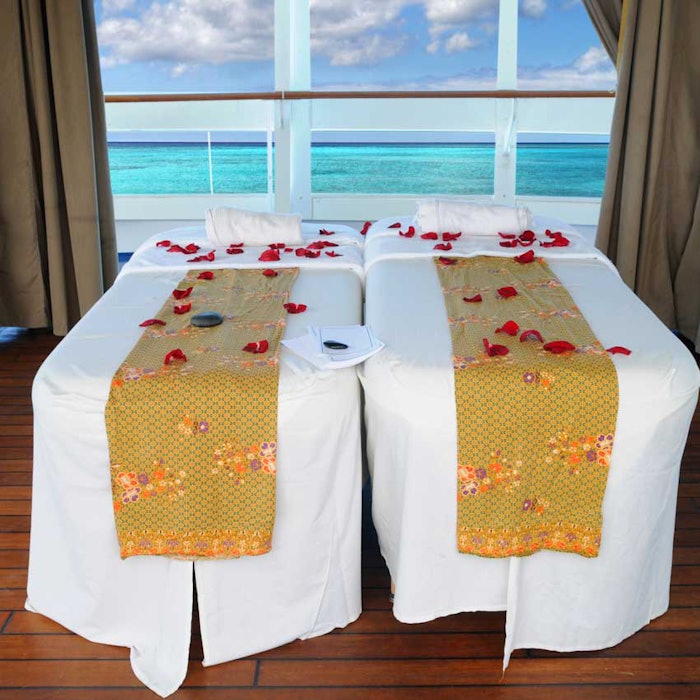 The traveling spa has definitely seen a surge over the past few years. Specifically, in-flight and at-sea spas have become a popular way for clients to relax and take advantage of down-time during travel. Conde Nast Traveler named the top eight cruise ship spas, as listed below.
1. Regent Seven Seas Explorer
This spa debuted in July as a 4,443 ft2 suite with a personal therapist, complimentary fitness classes and a customized spa menu that taps into the local flora. For $5,000 a day, the guest can have unlimited treatments and therapies, including use of the spa's experiential shower.
2. Uniworld
Take relaxation to the river, with Serenity Spas on the Uniworld. True to its name, treatment are international that incorporate its own organic massage oils.
3. Tauck Small Ship Cruises
These ships offer a variety of treatments from facials to massages. Le Boréal and L'Austral have treatment done in conjunction with Sothys Paris. Facials are offered with spa thermal water that leaves the skin supple and radiant.
4. Seadream Yacht Club
This spa offers guests an open-air massage area and private deck. Providing the highest therapist-to-guest ratio at sea, the Seadream Yacht Club has eight aestheticians ready to provide Asian therapies like a traditional Thai massage. Tai chi and yoga lessons are also offered daily to the spa goers.
5. Princess Cruises
The Lotus Spa provides a wide variety of treatments including poultice massages and the signature Royal Experience treatment that is a 75-minute simultaneous massage and facial.
6. Viking Ocean
Tying back to the brand's Nordic roots, this cruise line provides the LiVNordic Spa that tricks the body into adjusting to rapid hot and cold temperatures while moving between the sauna and cold pool.Guests can customize their treatments to relax and detox.
7. Crystal Cruises
The Crystal Spa is the only Feng-Shui inspired spa at sea, balancing and harmonizing the guest with a large menu of traditional and original spa treatments. The spa offers wrinkle and dermal fillers while also providing aroma stone therapies and Japanese silk booster facials. The Crystal Spa offers showers with special mist and rain functions to soothe and relax guests after their treatments.
8. Seabourn
The Steiner Spas in the current three ships will see a fourth and fifth ship added in 2016 and 2018. The brand recently announced a partnership with Dr. Andrew Weil, focusing on holistic mind and body treatments.