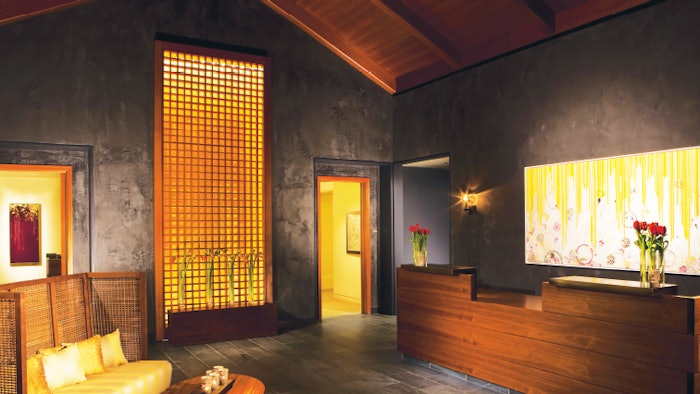 Photo courtesy of Sense Spa at Rosewood Sand Hill
When it comes to skin care, it is no secret that there is no "one size fits all solution," so why would receiving spa treatments be any different? There has been a driving force in the spa industry for customizable and personalized spa treatments and home care routines, and Sense Spa at Rosewood Sand Hill in Menlo Park, CA takes this concept very seriously.
Their entire spa menu is dedicated to customized facials that provide relaxation and rejuvenation. Recently, they incorporated the QMS Medicosmetics brand into their menu and combined the Sense Spa's core techniques for wellness offerings and facial massages with the cosmeceutical line to make a completely unique and customizable experience, depending on the guests' needs. With 16 acres of gardens and courtyards, this hotel and spa has mastered the art of becoming an escape to paradise.
To learn a little more about the spa, it's customized treatments and how it keeps its edge in a very competitive market, Skin Inc. sat down with Deborah Marron, lead esthetician at Sense Spa at Rosewood Sand Hill.
Related: Sense Spa Partners with QMS Medicosmetics on Facial Menu
Skin Inc.: How did you get started in the industry?
Deborah Marron: I actually started off in construction, but because of the unfair pay gap between men and women, I eventually ended up going to beauty school. I decided I would go the opposite of the industry I was in. In beauty school, I started off in nails, but I kept getting distracted by the esthetician program happening in the same building. Thirty-two years later and I haven't looked back.
SI: How does Sense Spa at Rosewood Sand Hill go about training their spa staff?
DM: We start with the new protocols that are brought to us from brand trainers. The esthetician leads, then follow up with reworking the protocol to fit our brand, as well as the needs of our clients.
SI: How does Sense Spa stay competitive with other spas in the area?
DM: We stay competitive by bringing in innovative and exclusive skin care brands into our spa and treatment rooms.
Continue reading our EXCLUSIVE interview with Deborah Marron in our Digital Magazine...