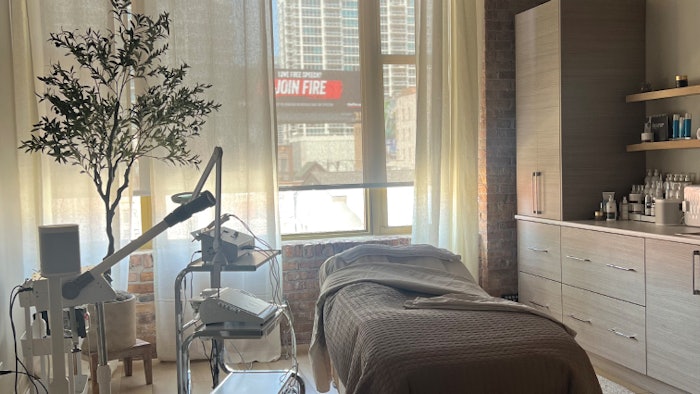 When it comes to Chicago, there are a plethora of spas to experience and visit. It is crucial to figure out your niche to make your spa stand out among the rest and Lisa Simone, founder of Lisa Simone Skincare and DermaConcepts/Environ Ambassador, has definitely made her spa space unique. Upon walking into her new location off of Erie St., I was immediately blown away by what Simone had done with the space she had. Everything felt so open and inviting and amazingly spacious, which can be a battle all of its own with finding space in the city. Her treatment rooms proved no different with how much comfort and room they provided. I truly felt like I was stepping outside of the city and into a luxurious space when entering the spa, and the treatment itself only further executed that concept. Skin Inc. sat down with Simone to learn more about what it's like owning a spa in a big city, how else she works to make her space stand out and how she evaluates emerging trends to figure out what to incorporate into her space.
Skin Inc. (SI): How did you get started in the industry?
Lisa Simone (LS): I discovered my passion for the beauty industry when my love for hospitality and skin care intersected. I realized that I could combine my passion for providing exceptional customer service with my knowledge of skin care. This realization led me to pursue a career as an esthetician, and I have been practicing for the past 20 years.
SI: What do you think is most important for successfully running a spa?
LS: In my experience, the most important aspect of running a spa successfully is creating an environment centered around exceptional customer care. Building a strong rapport with clients, actively listening to their needs, and delivering personalized treatments are crucial. Additionally, maintaining a high standard of cleanliness, investing in quality skin care products and equipment, and fostering a positive and welcoming atmosphere contribute to the overall success of a spa.
Related: Understanding Lighting to Illuminate a Spa Space
SI: What is your greatest achievement?
LS: One of my greatest achievements as an esthetician has been witnessing the transformation and positive impact I have had on my clients' lives. Seeing their increased confidence and improved skin health is incredibly rewarding. Additionally, I am proud to have built a loyal clientele over the years who trust me with their skin care needs.
SI: What made you decide to bring Environ into your spa space?
LS: I decided to bring Environ into my spa space because of its outstanding reputation for delivering effective skin care solutions. Environ's commitment to using science-backed ingredients, advanced formulations, and cutting-edge technology aligns perfectly with my philosophy as an esthetician. I wanted to offer my clients the best possible skin care treatments, and Environ's range of products and treatments perfectly complemented my goals.
Continue reading our EXCLUSIVE interview with Lisa Simone in our September Digital Magazine...