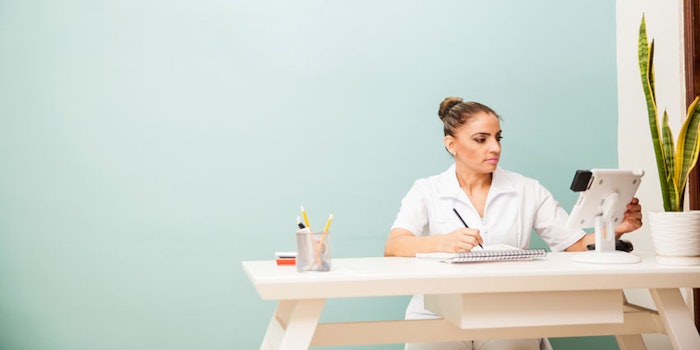 Today a growing number of doctors, nurses and other health care professionals actively suggest esthetic treatments and cosmetic products to patients, to compliment the work they do. The demand is high and with overall health being a top priority, now more than ever, it is important for estheticians to build strong relationships with the medical community. For skin care professionals, building relationships with top-rated health care professionals can create new opportunities for client care and leverage personal expertise.
Often times as single health care providers, physicians can only cater to what they specialized in. That is why physicians, surgeons, nurses and even dentists consider the work that skin care professionals do as valuable, because they may miss out on specific aspects of skin that a skin care professional would take into account. Developing relationships with the medical community can be viewed as an opportunity to build positive connections and long-lasting partnerships. Here are a few suggestions and considerations to help you build positive relationships with health care professionals in your community.
Consider Your Partnerships
In your professional role, often times there are clients that need more than your expertise as a skin care professional. This is when we rely on the health care community to come on-board to help diagnose, assess a condition, prescribe medicine and help the patient achieve an ideal outcome for their overall health. Sometimes you will create a customized skin care routine based on a diagnosis or condition or help patients in product selection.
When considering which medical professionals you would like to build a relationship with, consideration should be given to your unique specialty area if any, and also the types of issues you are seeing most often in your practice. For example, professionals that focus on precision eyebrow shaping and microblading might consider reaching out to an oculoplastic surgeon to address upper-eyelid blepharoplasty, brow lift, and tear-trough filler services for their clients. Other medical professionals that you may consider building relationships with are cosmetic surgeons, OBGYN's, dentists and nurses.  
Cosmetic Surgeon
Modern cosmetic surgery techniques have brought forth an expansion in wellness. With demand for both minor reconstructive surgeries and major ones, the field of plastic surgery continues to grow. "While a cosmetic surgeon can restore your skin to a natural and healthy state through cosmetic procedures, a skincare specialist can provide you with facial massages, peels and services to help maintain these changes. They can also help you manage skin issues such as sun damage, discoloration, acne and dull skin," comments Aisha White M.D., of Quintessence Plastic Surgery in Austin, Texas. 
OBGYN
Another great partnerships is with OBGYN's. For some women, pregnancy might be the most beautiful experience, but it comes with a fair share of changes to the body. Many women experience several changes that occur to their skin during this time. Not all women are blessed with that "pregnancy glow." Often times pregnant women are unable to take certain medications because they can cause complications with the pregnancy. A positive relationship with an OBGYN is beneficial in this regard. You may help in their treatment through facials and become a valuable asset in postpartum healing. Other aspects of care where skin care professionals can help include hormonal acne and menopause.
Nurse
Nurses are the backbone of the health care system. Many are now assuming a primary role in patient care. Nurses serve as a source of guidance to many patients. If they see a patient with a superficial skin condition that needs professional attention, they can refer them to you for care. As many individuals now opt to see nurse practitioners for wellness check-ups and other diagnostic and laboratory tests, building relationships with these community partners can prove to be very valuable to you as a skin care professional.
Dentist
Forming relationships with dentists is another valuable partnership. Our mouth is the gateway to our health. We are what we eat and our ability to eat well depends on our oral health. Dentistry itself extends beyond the cleanliness of your gums and teeth. Many dentists believe that skin care and oral health are related. Cosmetic dental services such as teeth whitening and veneers to redesign and reshape the teeth are all relevant in helping individuals achieve a well-balanced look.
Post Responsibly on Social Media
The medical community is becoming increasingly alarmed by estheticians and self proclaimed "beauty experts" that don't respect the boundaries of their scope. Many well intentioned skin care professionals inadvertently offend medical professionals by overstepping their boundaries on social media. Remember dermatologists are trained medical doctors that specialize in the treatments of skin, hair and nails. They qualify in performing medical diagnostic procedures, which can be invasive and prescribe medicines. They manage pathological and cosmetic disorders of the skin, hair, and nails and went through rigorous training to do so. Many want to be our adversaries and not our enemy. As skin care professionals, we are not a substitute for medical care and should not position ourselves as such. Be careful what you post and how you frame it on social media. Remember the services and products you offer may be a part of a patients ongoing therapy to provide treatments that go hand in hand to achieve a goal-healthier skin. Publishing damaging content on social media can affect future relationships with the medical community if you wish to work with them.
Finding a Good Fit
For some estheticians the idea of working with a doctor is exciting and represents a next-level step in their career trajectory, but don't let the prospect of partnering with a doctor void a common sense approach to the partnerships you choose. Before aligning yourself with a physician it is important to do your homework on the doctor and their practice. Read reviews, listen to your guests, set up a time to visit the practice and talk with the doctor to determine if it is a good fit. Talk to the doctor about their treatment ideology and the services they provide. After you refer a client ask about their experience to help guide your future referrals.
A Few Points to Remember
When you are building relationships with the medical community, remember you are also striving to make a good impression as well. Remember to make sure your business, administrative and customer service skills are all first rate. Make sure your business is aligned with current business trends, that you are skilled in managerial and administrative tasks and that you are approachable and friendly to your clients. Courteousness is an important skill and cleanliness is also an important virtue. A neat place with pleasing a aesthetic, as well as your tidy appearance, asserts safety and health. It makes a positive impact on clients and a good first impression. Your demeanor and your work space's environment is crucial. Time management is also important, you want the medical community to know that you have efficient systems in place to manage clients. Smart time management skills on your part can help you provide services effectively.
Relationship Building
Any health care setup works better when all associated health care professionals maintain a healthy relationship with each other. If we consider the technical aspects of health care, the primary context is that of human relationships. It means that as long as people get along with people, the system will work. You can join different groups and communities online that promote interdisciplinary integration in health care setups, assert your role as a skincare professional and offer your services to other health care providers as well. It enables them to have a first-hand experience and serves as a goodwill gesture on your part. As a skin care professional, you need to understand teamwork with regard to other medical professionals roles, and understand that direct intervention are what make professional relationships healthy. It helps when you listen and understand the demands of the job. A harmonious attitude will bring you and your practice a lot of benefits and help you excel in your career and provide the very best to your clients.